The poll conducted by "Matichon" and "Daily News" with over 42,848 votes reflected the voices of the people from all regions of Thailand. The majority, about 60.2 percent, indicated that the government should prioritize solving economic and cost-of-living issues, with the highest percentage of male respondents at 63.7 percent.
Matichon Group is collaborating with Daily News newspapers, another major media organisation, and Pridi Banomyong International College of Thammasat University, in conducting a survey on what problems should the new Srettha Thavisin administration should first tackle. 
The survey, conducted online from 1 to 31 October 2023, reached people of all ages, occupations, education levels and income levels across the country. The largest participating age group was 51 years and older with 35.8 percent, followed by 31-40 years with 22.7 percent, 41-50 years with 20.1 percent and 21-30 years with 16.9 percent.
In terms of education, 51.2 percent had a Bachelor's degree, 28.1 percent had less than a Bachelor's degree and 17.7 percent had a Master's degree.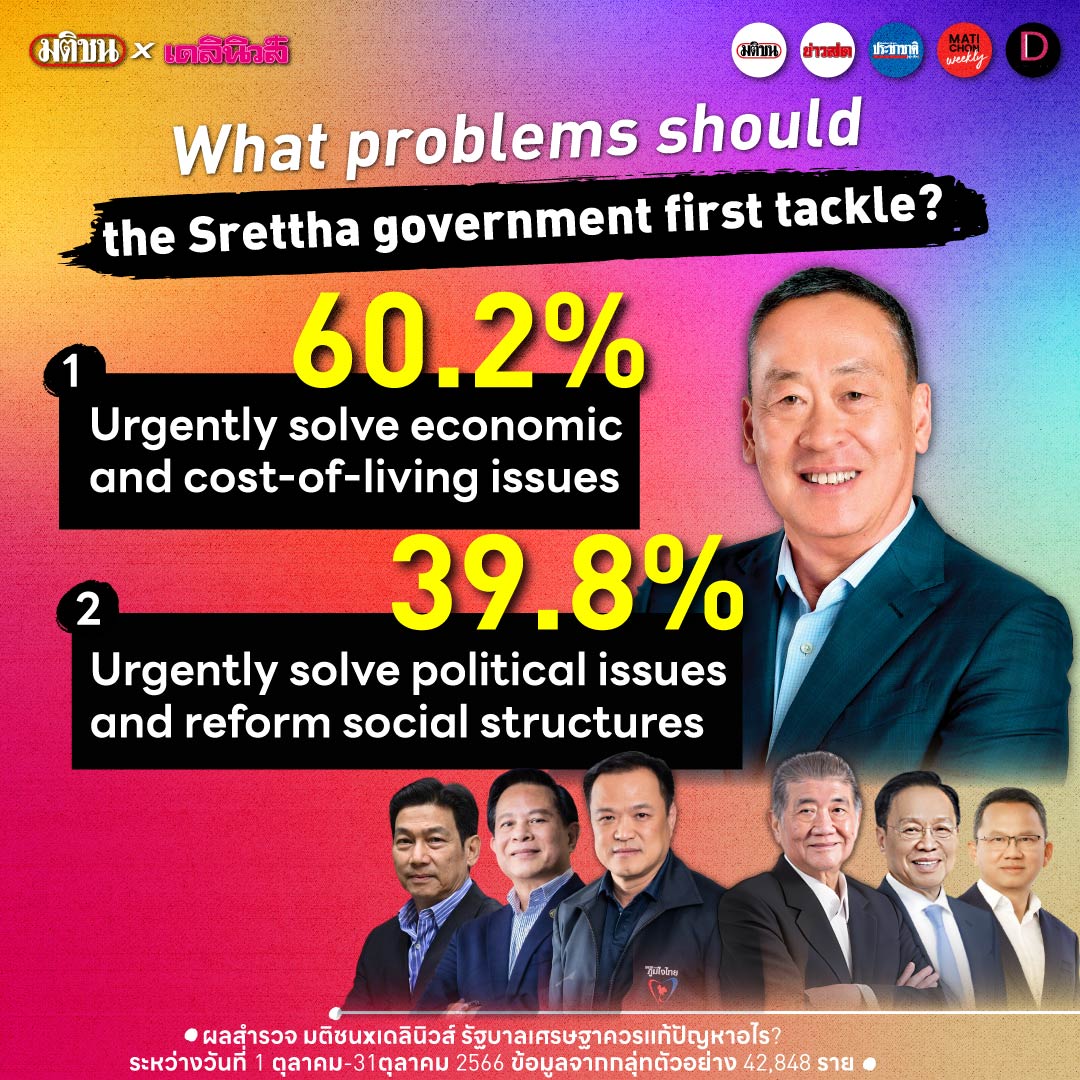 Two main questions were asked in the survey: The first related to addressing political and social structural reforms, the second to solving economic problems and cost of living. The results show that 60.2 percent of the population want the government to accelerate efforts to solve economic and cost of living problems, while 39.8 percent of respondents prioritize political and social structural reforms.
Prap Bunpan, deputy managing director of Matichon Company's Digital Media and Technology Group, stressed that the government should address people's concerns, especially reducing the cost of living, including the cost of water, electricity and fuel, and resolving debt issues.
However, looking at the survey results in relation to political and social structural reforms, there is a significant number of respondents who prioritize constitutional amendments and reforms of judicial procedures, suggesting that these issues should not be overlooked by the government.
This survey will be subject to further in-depth analysis on 13 November, which will provide more detailed insights and perspectives as it will involve experts and media personalities from different perspectives in a large conference hall at Khaosod building.
______
Related articles: