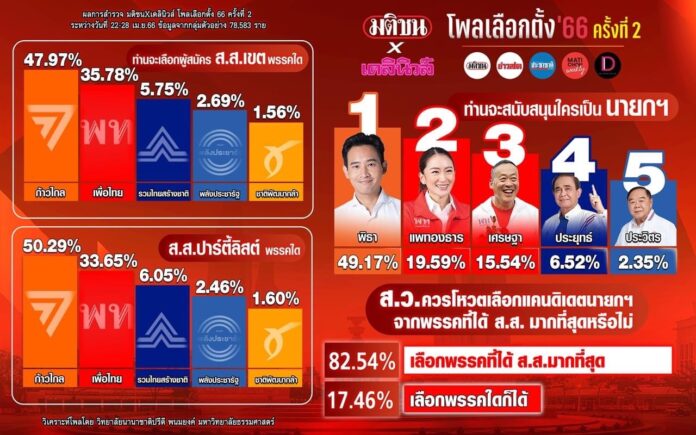 Over 50 percent of respondents in the second round of general election online survey organized by Matichon Group X Daily News chose Move Forward Party as the most preferred Party that they will vote for in the party-list ballot paper.
Pheu Thai Party came second but far behind at 33.56% in the survey in which 78,583 took part between the period from April 22-28.
The survey first round, starting April 8-14, 2023, Pheu Thai received 38.89% while Move Forward Party with 32.37%, followed by United Thai Nation Party at 12.84%.
This second round, the United Thai Nation Party came third with 6.05%, Phalang Pracharath 2.46%, Chart Pattana Kla 1.6%, Democrat 1.05%, Thai Liberal Party 1.01%, Thai Sang Thai 1.01%, followed by 0.96% undecided and 0.70% for Bhumjai Thai Party.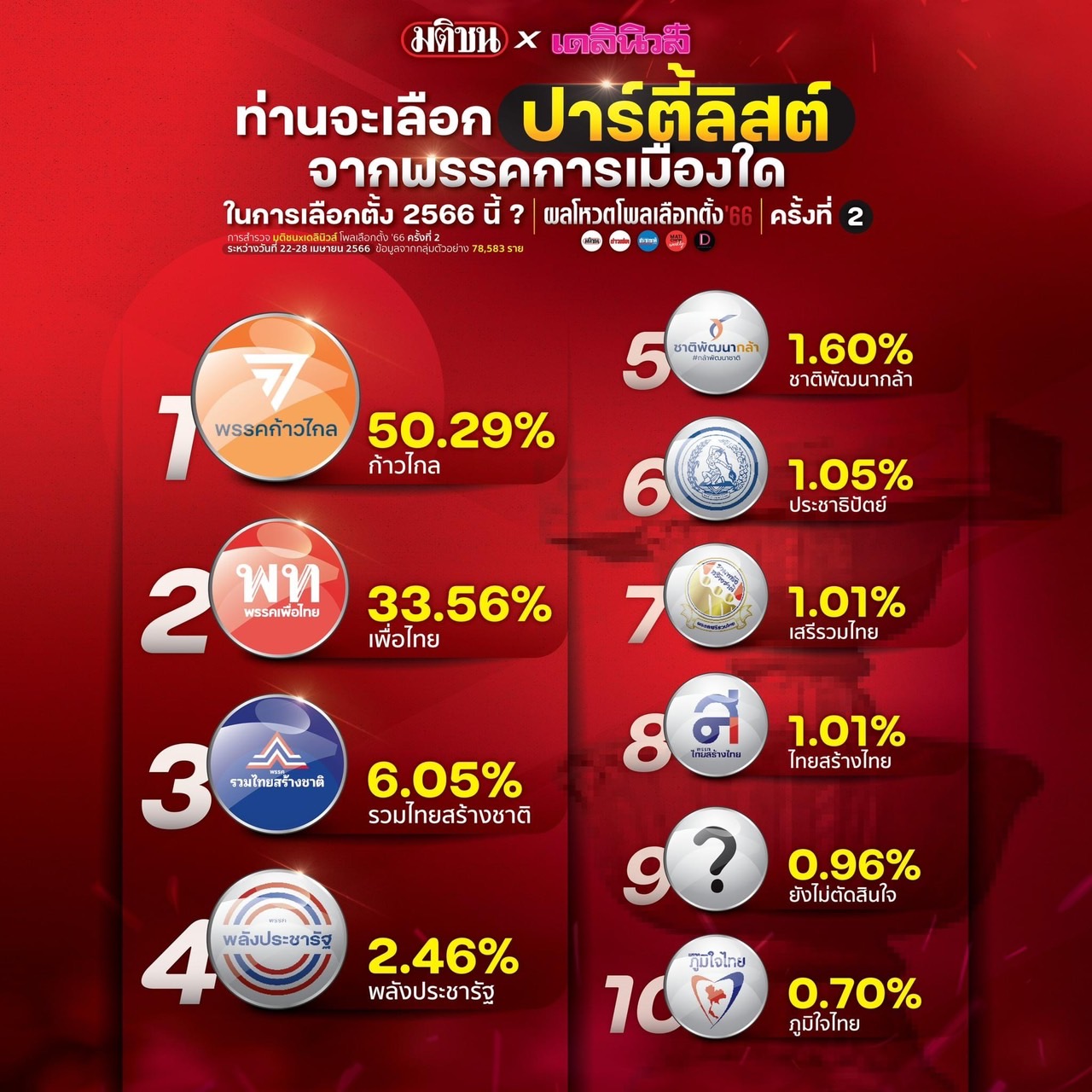 When asked from which party will you vote for the constituency-based MP, Move Forward Party also came first with 47.97%, followed by Pheu Thai with 35.78%, United Thai Nation Party 5.75%, Phalang Pracharath 2.69%, Chart Pattana Kla 1.56%, undecided 1.33%, Democrat 1.18%, Thai Sang Thai 1.05%, Bhumjai Thai 1.02% and 0.56% saying they won't vote for any candidate.
On who would you vote to support as the next PM, 49.17% chose Move Forward Party PM candidate Pita Limjaroenrat, followed by 19.59% for Pheu Thai's Paetongtarn Shinawatra, 15.54% for second PM candidate from Pheu Thai Srettha Thavisin, incumbent Gen Prayut Chan-o-cha from the United Thai Nation Party with 6.52%,
Phalang Pracharath PM candidate Gen Prawit Wongsuwan with 2.35%, Chart Pattana Kla's Korn Chatikavanij 1.74%, undecided 1.18%, Thai Sang Thai's Sudarat Keyuraphan 1.04%, Thai Liberal Party's Pol Gen Sererpisuth Temeeyaves 0.84% and Bhumjai Thai Party's Anutin Charnveerakul 0.64%.
When asked if the 250-junta-appointed senators should vote to support the PM candidate from the party which gained most MP seats or not, 82.54% said yes while 17.46 said the senators can vote for whichever PM candidate.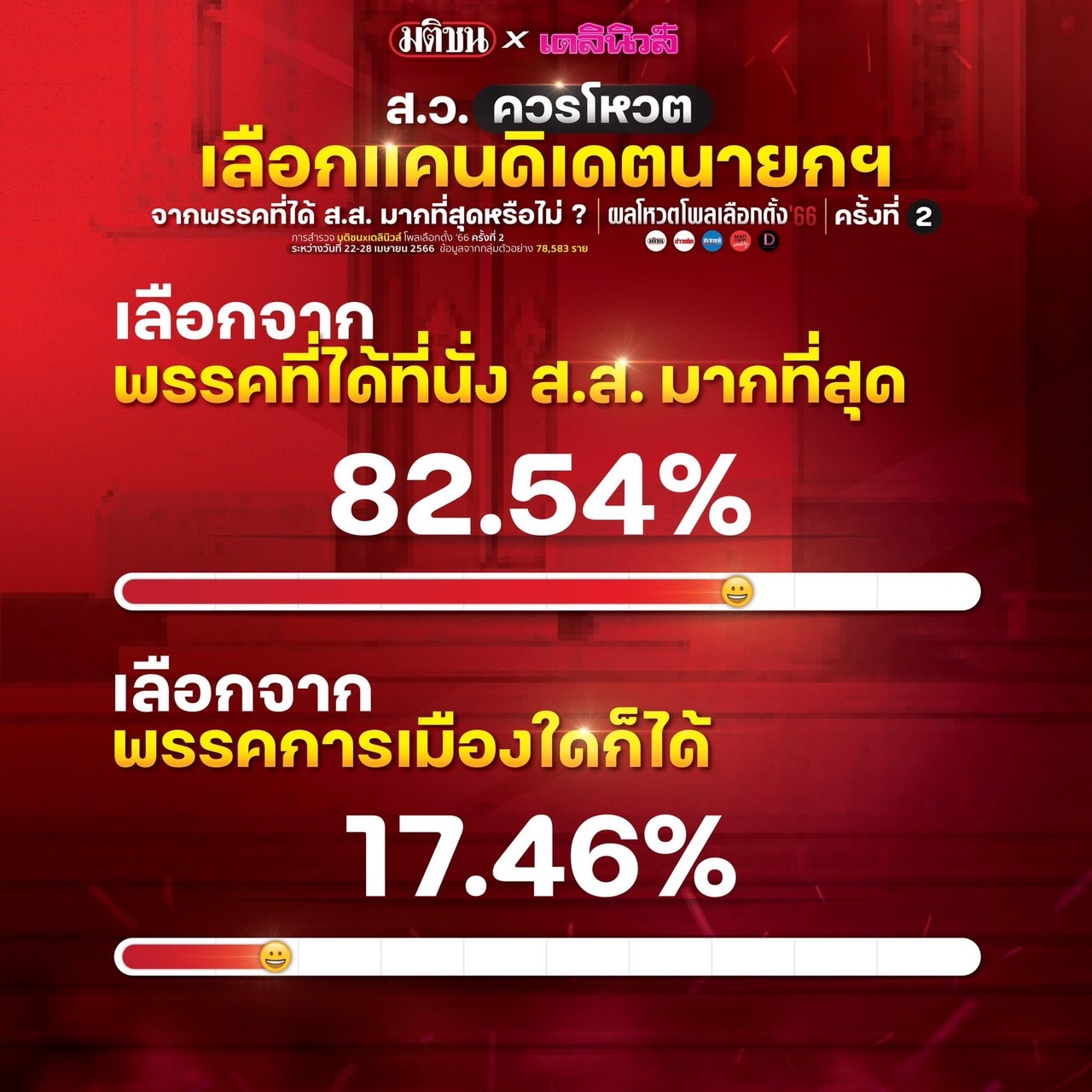 The generational breakdown of the respondents, Gen X or those age between 42-57 were the largest group at 31.48%, followed by Gen Y or those between 26-41 at 29.85%, followed by babyboomer generation or those age between 58-76 at 22.48%, Gen Z or those between 18-25 at 15.58% and Silent Gen or those 77 and over at 0.81%.
The top 10 provinces where respondents reside are: Bangkok, Nonthaburi, Pathum Thani, Chiang Mai, Samut Prakarn, Chonburi, Nakhon Ratchasima, Ubon Ratchathani, Khon Kaen and Chiang Rai