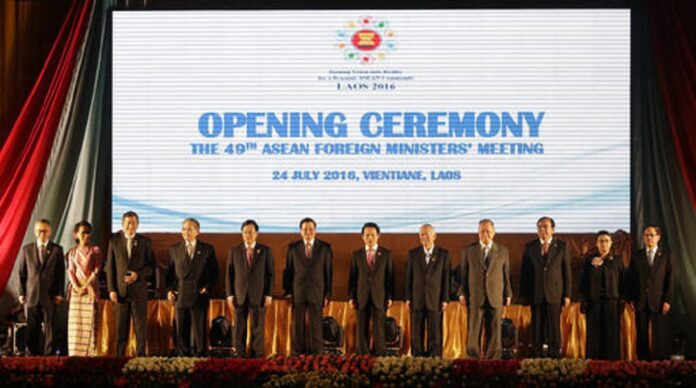 VIENTIANE, Laos — Southeast Asia's main grouping made a last-ditch attempt to reach a consensus on countering China's territorial expansion in the South China Sea, but their deadlock appeared far from being resolved as minutes ticked by before a critical meeting with the Chinese foreign minister Monday.
The foreign ministers of the 10 members of the Association of Southeast Asian Nations held three rounds of talks on Sunday, and an emergency post-breakfast session on Monday ahead of a scheduled meeting with Chinese Foreign Minister Wang Yi.
The deadlock is over whether ASEAN, in their traditional joint statement, should chastise China for claiming the entire South China Sea, which infringes on territorial claims of four member nations — the Philippines, Vietnam, Malaysia and Brunei.
Because ASEAN works by consensus, it cannot rebuke China unless all 10 members agree. In complete disagreement is Cambodia, a close China ally, and even Laos although its opposition is somewhat muted because of its role as the host of the series of regional meetings this week. Thailand also doesn't appear too keen to criticize China.
At one point it appeared that the ASEAN ministers will simply have to abandon the idea of issuing a joint statement.
Thai Foreign Minister Don Pramudwinai told reporters after the emergency meeting that South China Sea was not discussed at all. He, however, said ASEAN will issue the joint statement after all, but refused to say if the communique will contain a reference to South China Sea and China.
"You will read it," he said cryptically.
Indonesian Foreign Minister Retno Marsudi also said: "It's very positive … We are very much on track" to release the communique. She also would not say if the communique would refer to the South China Sea, or the decision of an international tribunal, the Permanent Court of Arbitration in The Hague, earlier this month that said China's expansive claims in the region are illegal.
The stalemate puts pressure on ASEAN's cherished unity and also gives an upper hand to China, which has used every diplomatic means at its disposal to stave off wider international criticism over moves it's made in the South China Sea that have impacted the four Southeast Asian countries.
"Certainly, Cambodia's paralysis of ASEAN … hurts ASEAN's unity, cohesion, relevance and reputation," said Malcolm Cook, an analyst at the Institute of Southeast Asian Studies, a Singapore think-tank. "It makes ASEAN peripheral, not central, on this issue."
"For Laos and Cambodia, they clearly see relations with China as more important than their membership in ASEAN and are willing to damage ASEAN to aid their relations with China," he said.
The South China Sea is dotted with reefs and rocky outcroppings that several governments claim, including China and the Philippines. The arbitration panel didn't take a position on who owns the disputed territories. It did conclude that many of them are legally rocks, even if they've been built into islands, and therefore do not include the international rights to develop the surrounding waters. That and other findings invalidated much of what China has called its historic claims to the resource-rich sea.
In order to ease tensions, China, the Philippines and possibly other claimants must define what the ruling means for fishing, offshore oil and gas exploration, and military and other activities in the vast body of water that lies between the southern Chinese coast and the Philippine archipelago.
China has rejected the ruling as bogus, and called for bilateral negotiations with the Philippines. In recent days, its military has staged live-firing exercises in the area and said it would begin regular aerial patrols over the sea. It also has asserted that it will not be deterred from continuing construction of its man-made islands.
On Sunday, Wang, the Chinese foreign minister, reiterated his government's position that it will only accept bilateral negotiations.
"Every country has the same position as China, that is that we should fully and effectively implement the regional Code of Conduct, and in that COC it clearly states the dispute should be resolved by peaceful, sit-down talks between the parties directly concerned," he said.
He is scheduled to give a news conference later Monday after his talks with ASEAN ministers.
Story by: Vijay Joshi, Daniel Malloy