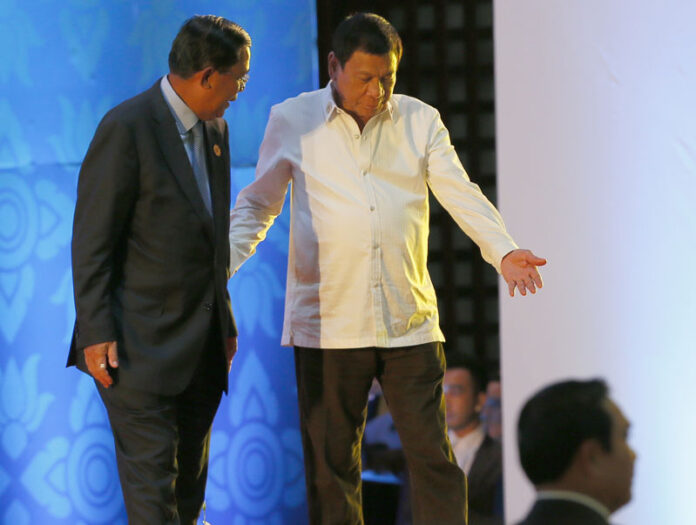 VIENTIANE — As bodies continue to pile up in his war on illegal drugs, the Philippine president is making waves at his first summit of the Association of Southeast Asian Nations where he joins a diverse cast of leaders, including some who have found themselves in the cross hairs of human rights watchdogs.
Rodrigo Duterte would fit right in, critics say, and even steal the show.
As president, Duterte brings a long-blemished rights record into the 10-nation ASEAN bloc, which has struggled with internal strife due to its unwieldy collective of dictatorships, authoritarian states, a monarchy and fledgling democracies since its founding nearly half a century ago as an Asian bulwark against communism.
"For most ASEAN leaders, Duterte represents a throwback to an uglier and more brutal form of Asian state, which taints ASEAN efforts to market itself as an increasingly progressive, modernizing trade block with a focus on trade data, rather than daily police-killing body counts," said Phelim Kine of New York-based Human Rights Watch.
Once a government prosecutor who fought outlaws and insurgents, Duterte was a longtime mayor of southern Davao city, where he started to build a name for his deadly anti-crime campaign –  he was nicknamed "Duterte Harry" after Clint Eastwood's Dirty Harry movie character. Since he took office as president on June 30, his crackdown on suspected drug dealers and users has left more than 2,000 people dead. More than 600,000 others, mostly drug addicts, have surrendered apparently for fear of being gunned down.
"That dynamic means that Duterte can expect his most meaningful face-time in Laos with other ASEAN embarrassments such as Cambodia's dictator Hun Sen, representatives of Thailand's military junta and his authoritarian Laotian hosts," Kine said. He can rely on these leaders to lend him a sympathetic ear for "his grotesque justifications of abuse of rule of law and state-sanctioned extrajudicial violence as the price of a 'secure' society," he said.
In a rare moment of diplomatic tumult ahead of an ASEAN summit, the 71-year-old Duterte cursed on Monday at President Barack Obama, warning the world's most powerful man not to question him about the rising body count in his crackdown or "son of a bitch I will swear at you." This was hours before they were supposed to meet in the Laotian capital.
The next day Duterte expressed regret in a semi-apology aimed at mending fences. But it was too late.
An evidently offended Obama had by then canceled Tuesday's meeting, which was shaping up as the most-awaited, again because of Duterte – he had recently unleashed abuses at the U.S. ambassador to Manila, calling him gay in derogatory terms and railed against America's security policies. Also, Obama was expected to raise the matter of extrajudicial killings, all contributing to growing antagonism between the two longtime allies.
Given what Duterte said, "we felt that it wasn't the right time to have a bilateral meeting with the U.S. president," Ben Rhodes, Obama's deputy national security adviser, said. "Certainly the nature of those comments was not constructive."
Obama is only the latest victim of Duterte's foul tongue.
In the few months since the election campaign and more than two months into the presidency, Duterte has cursed the pope, the U.N. secretary-general and gotten into verbal tussles with the revered Roman Catholic Church in the Philippines.
Aside from his deadly record, Duterte's disdain for statecraft, irreverence and bluntly frank and profane language would likely weigh on ASEAN, a conservative group steeped in tradition, protocol and nuanced rhetoric.
ASEAN's still in a flux. In an incredible reversal of roles, for example, the Philippines was the democracy champions just years ago and was pushing then military-ruled Myanmar to move toward democratic reforms. Myanmar is now led by Nobel Peace laureate Aung San Suu Kyi, who fought her country's military junta while languishing in home detention for decades.
ASEAN came into being during the Cold War era, and has long been hamstrung by the stark diversity of its member governments along with a bedrock rule of noninterference in each other's affairs and a policy of making decision by consensus. That has allowed leaders like Hun Sen, Thailand's coup leader-turned-premier Prayuth Chan-ocha, the faceless one-party communist rulers of Laos and Vietnam, and the general who once ruled Myanmar to occupy regional legitimacy and defy the West's call for democratic governance.
ASEAN says it's best to keep dictators in its midst engaged, because dialogue helps to keep them in check. It takes credit for helping Myanmar's generals give up power. It also says it is necessary to keep the diverse nations together so that they have a stable platform to resolve conflicts and integrate their economies as a counterweight to Asian powerhouses China and India.
Duterte rejects any suggestion that he is a dictator. He sees himself as a leader with an extra tough approach on crime, especially on illegal drugs, because the problem has worsened into a pandemic, corrupting law enforcers and sparking heinous crimes. In ASEAN, he said he would assure the bloc and other countries that there would be no radical shifts in Philippine policies under him.
While critics cringe, Duterte has been adored by a substantial electorate of followers who gave him a convincing election victory on a promise to eradicate crime, drug trafficking and corruption in six months. The tall promise was embraced by crime-weary Filipinos but abhorred by opponents and rights groups as a dangerous expansion of his rights record in Davao, where he was linked to killings with his tacit endorsements of vigilante extermination of alleged drug dealers by motorcycle-riding death squads.
Anna Olarte, an English teacher at an international school in Vientiane, trooped to a convention center with more than 700 other Laos-based Filipinos to see and cheer the president she voted for.
When Duterte walked up the stage and bowed deeply before her and others, Olarte said her heart melted. "It was like, my God, this is my president," she said.
Story: Jim Gomez