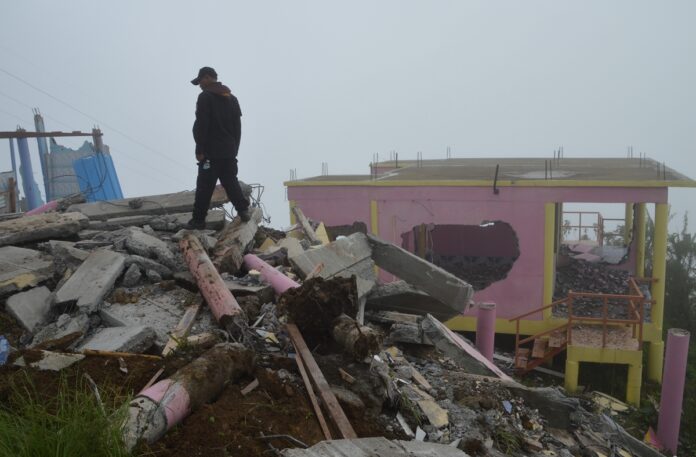 PHETCHABUN — The owner of a resort demolished by forest officials for squatting on public land in Phetchabun province was hospitalized after having a stroke brought on by immense stress, his wife said.
Taweesak Pongjirapanya is among the owners of 19 hotels that officials said were illegally built atop the picturesque mountain of Phu Thap Boek and had to be demolished as part of the junta's campaign to stamp out unauthorized use of protected public lands.
Read: Bogus 'ISIS' Bomb Threat Fails to Stop Demolition of Encroaching Resorts
Taweesak suffered a stroke shortly after security officers started pulling down his hotel, called Phu Thong Kham Resort, on Aug. 30, according to his wife Kachee Pongjirapanya. She said Taweesak remains unconscious in intensive care.
"I don't know if I can demand anything," Kachee said by telephone Wednesday. "But I want them to return us our resort. I want them to help us. I want them to help pay medical bill, because we have no money left."
According to Kachee, her husband inherited the plot of land from his grandparents who lived there before land deeds were issued, and they have no business other than the resort they built on that land.
"We have nothing else. We built it to make a living," Kachee said. "If they took it away from us like that, we would have to rent land from someone else."
But one of the officials in charge of the eviction said the government allowed landholders such Taweesak to live on the mountain – so long as they didn't develop it commercially – because it is part of the Phu Hin Rong Kla National Park. Doing so amounts to land encroachment, said Boonlap Suksai, head of the Forest Department's regional office.
"There are some native Hmong who turned their land into resorts. And there are outsiders who rented the land from the natives, turned it into resorts but kept the natives as proxies," Boonlap said.
He added that all of the 19 resorts identified as land encroachers have been demolished, and authorities will soon come up with a plan to redistribute the land to legitimate owners for appropriate uses.
The demolition followed junta chairman Prayuth Chan-ocha's July 5 order to destroy the 19 offending properties.
Since seizing power from an elected government in May 2014, the junta has embarked on a campaign to take back lands in National Parks and other protected forests that had been developed without permission.
While the campaign was praised as an overdue effort to save forests and beaches from business operators, it also led to clashes between security officers and some forest communities who said they had been living off the land for decades.
Related stories:
Evicted Villagers and Park Officials Reach Compromise