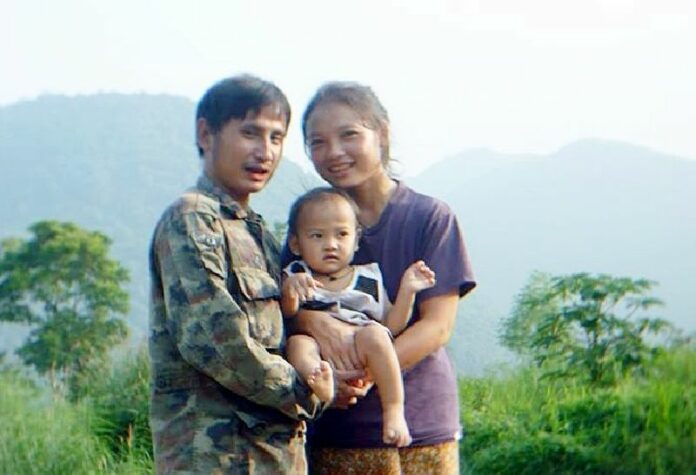 BANGKOK — A rights activist and key witness in a court case against the director of Kaeng Krachan Park has disappeared, his family says.
Porchalee Rakchongcharoen, an ethnic Karen also known as "Billy," is involved in a lawsuit that accuses Kaeng Krachan Park authorities of damaging the property and homes of more than 20 Karen families living inside the park. Mr. Porchalee is also a central witness for a separate lawsuit investigating the park director's involvement in the murder of another rights activist in 2011.
Chaiwat Limlikitaksorn, the director of Kaen Krachan Park, said Mr. Porchalee was detained at a checkpoint and taken for questioning on 17 April because of illegal honey found in his possession.
Mr. Chaiwat said Mr. Porchalee was released after the questioning, but he has been missing ever since.
On 19 April, Mr. Porchalee's family filed a complaint with local police alleging that he was forcibly "disappeared."
Police have yet to release any information on Mr. Porchalee's whereabouts.
"We are pressing Thai authorities to break this silence and come up with basic information about what they have done so far and what they are preparing to do," said Sunai Phasu, a senior researcher at Human Rights Watch.
At the time of his arrest, Mr. Porchalee was en route to meet with Karen villagers in Petchaburi province to prepare for an upcoming court hearing on the lawsuit filed by villagers against park authorities last year. The lawsuit alleged that in July 2011, Kaeng Krachan park officials destroyed the property and homes of more than 20 families living in the national park.
Distraught by Mr. Porlachee's disappearance, residents of the Karen community in Kaeng Krachan National Park submitted letters to the National Human Rights Commission (NHRC) and the Lawyers Council of Thailand, seeking their assistance to redress their concerns about Mr. Porlachee's safety.
Mr. Krathong Cheebung, a leader of the Karen community in Kaeng Krachan, said he was supposed to meet Mr. Porlachee at his house in Kaeng Krachan on 17 April, but Mr. Porlachee never showed up.
Mr. Krathong said he phoned Mr. Porlachee's brother and learned that Mr. Porlachee left his residence in Bang Kloi village at 1 p.m., taking six bottles of honey with him as a gift.
"I asked his wife and his friends, but no one ever saw him again," Mr. Krathong said.
Another resident, Wut Boonlert, said Mr. Porlachee had also been drafting a royal petition for His Majesty the King, in order to inform him of the alleged persecution of the Karen people at the hands of park officials.
According to Mr. Wut, the petition details the series of violent acts allegedly committed by park officials, such as the burning of houses and barns, and forceful removal of villagers from their homes.
The petition drafted by Mr. Porlachee also asks Thai authorities to formally set up residential zones for the Karen people to live in peace. "That way we won't have to starve and suffer," Mr. Wut said. "[These days] we are scattered in the forest like barbarians."
It is not immediately clear whether the petition has been submitted to the palace bureau.
Mr. Surapong Kongchantuek, a leading member of the NHRC, told Khaosod that the Commission will be following the case closely, and said that Mr. Porlachee's disappearance will likely frighten other witnesses in the lawsuit against the park office.
Park chief Mr. Chaiwat, who purportedly detained and then released Mr. Porchalee, is also under criminal investigation for allegedly masterminding the murder of Tatkamol Ob-om, a Thai activist from Mr. Porchalee's network who was shot and killed in September 2011.
Mr. Surapong expressed concern that Mr. Chaiwat continues to act as the head of the park despite bureaucratic regulations that require officials who are facing serious court allegations to be suspended from their duties.
Under Thailand's penal code, "enforced disappearance" is not recognized as a criminal offense. The Thai government signed the International Convention for the Protection of All Persons from Enforced Disappearance in January 2012, but the treaty has yet to be ratified by parliament.
"Because there is no legal definition of enforced disappearance in Thai law, it has become a convenient exit for criminals when a body cannot be found," said Mr. Sunai. "If there is no body, they cannot be charged of murder."
According to Human Rights Watch, Thai authorities have failed to prioritize solving any of the 63 known cases of enforced disappearance.
Mr. Porlachee's family said they will submit a letter detailing their grievance to the Governor of Petchaburi province later today.
For comments, or corrections to this article please contact: [email protected]
You can also find Khaosod English on Twitter and Facebook
http://twitter.com/KhaosodEnglish
http://www.facebook.com/KhaosodEnglish