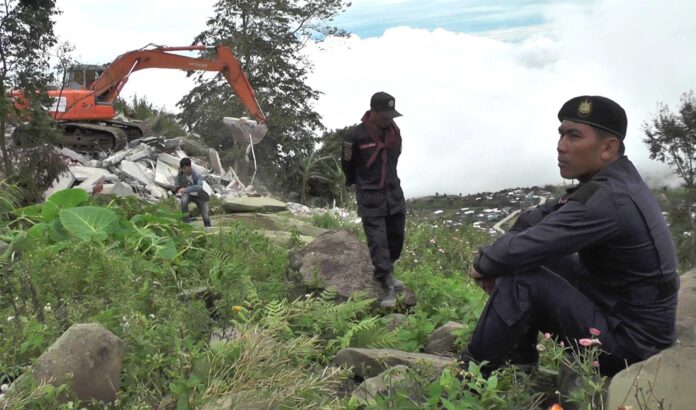 PHETCHABUN — Two officials on a mission to demolish resorts built on public land in Phetchabun province said an anonymous caller Thursday threatened that they would be attacked by the Islamic State if they did not cease operations.
The threat, which failed to materialize, followed a Department of Forestry raid on a group of resorts on the scenic Phu Thap Boek mountain as part of the military government's effort to restore public land from unauthorized hotel operators.
According to a statement released to the press Thursday morning, the two officials in charge of the operation received calls the night before from a man who said he was a militant from the terror group. He threatened to stage bomb attacks unless they withdrew from the mountain.
"But nothing happened today. Everything proceeded as normal," one of the two officials, Boonlap Suksai, said by telephone today. He said he only received the phone call once.
Boonlap added that the military did send some reinforcement to accompany his team this morning when they started demolishing the last three resorts that sat on the public land. The officials encountered no violence, and the operation was a success, Boonlap said.
Nineteen resorts on the peak of Phu Thap Boek were earmarked for demolition after forest officials ruled they were built on public land without permission. The junta issued a special order on July 5 to destroy the offending properties, and officials soon warned all 19 operators to pull down their buildings.
Boonlap said only three resisted, but today they gave up and allowed the demolition to take place.
"The business operators voluntarily demolished their resorts, and we helped them. They did it on their own accord. There was no resistance," Boonlap said. "As of this time, every owner has surrendered."