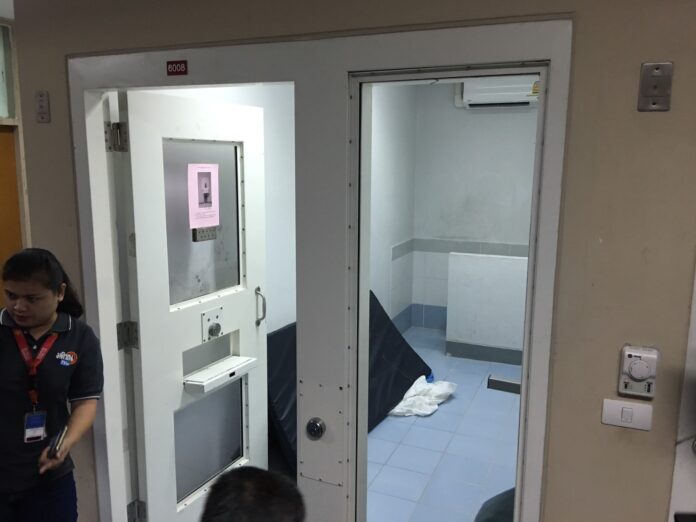 BANGKOK — The DSI is trying to explain how an official accused of illegally issuing hundreds of land deeds in the south died in its custody after its explanation — suicide — was challenged by an autopsy.
The DSI initially said former Phang Nga land official Thawatchai Anukul died in his cell early Tuesday after he hanged himself from a door hinge using his socks. After a forensic examination suggested otherwise, the agency said he died of liver damage caused by improper CPR.
That revised explanation was dismissed as impossible by a health official today.
Thawatchai; who was arrested Monday on suspicion of giving 10 billion baht in deeds to wealthy people for prime seaside properties in Phuket, Surat Thani and Phang Nga provinces; was taken at 1am on Tuesday to a hospital where attempts were made to resuscitate him. The 66-year-old was pronounced dead at 4:45am.
A medical examination cast doubt on the explanation for his death after it revealed that he died of blunt force trauma and suffocation. Thwatchai also had abdominal bleeding and a ruptured liver.
DSI chief Paisit Wongmuang on Wednesday ordered the death investigated but said he believed the injuries resulted from doctors' attempts to resuscitate Thawatchai by CPR.
The hospital's director refuted that as impossible.
Rienthong Nanna of Mongkutwattana Hospital said today standard CPR was performed under medical guidelines. He also noted CPR is performed in the chest area while Thawatchai's wounds were in the abdomen.
"The emergency team of Mongkutwattana Hospital was notified by DSI that someone had fainted," Rienthong wrote on Facebook. "We were not told that he hanged himself."
The police Institute of Forensic Medicine on Thursday afternoon said it would conduct further tests including on tissue found beneath Thawatchai's fingernails to find further clues about his death. The results were expected to be available in one month.
Thawatchai's family said they will not cremate his body until a full report is issued.