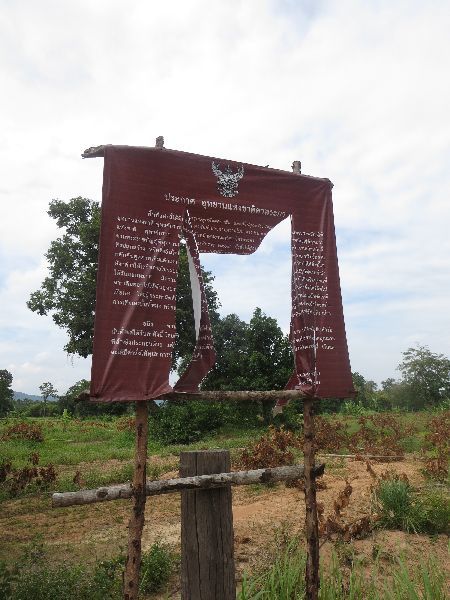 By Evan Gershkovich
NONG PAK VAN — Several weeks ago, villagers from Nong Pak Van in San Kaeo province woke up to find their rubber tree plantation decimated. The several hundred rubber trees, which were only one year away from harvest, had been cut down by a task force of park officials, soldiers, and police officers. Forest officials told the villagers the land was being taken back for reforestation.
After finding their trees cut down, villagers from Nong Pak Van sought an explanation from the provincial office of Thailand's military government, the National Council for Peace and Order (NCPO). They were told that because of the current political situation, the NCPO had to take back the land.
On 14 June, the NCPO issued an order calling upon authorities to put an end to deforestation and forest encroachment across the country. Since then, combined task forces of park officials, soldiers, and police have entered forest reserves across the country to evict local villagers and commercial operations from the protected areas.
Last week, NCPO chairman Gen. Prayuth Chan-ocha approved a plan to increase the country's forested land from 31.5 percent to 40 percent over the next ten years.
A history of murky laws
When the Thai government began its drive to end deforestation in the 1960s, many villagers were kicked off land that became protected areas under the National Park Act of 1961 and the National Forest Reserve Act of 1964. But with nowhere else to go, many villagers fought for compromises to remain on the property as long as they did not sell any land or produce crops other than for their own consumption.
According to Nong Pak Van villagers, when they first planted the rubber trees four years ago, local forestry officials warned them that they were breaching part of a compromise agreed to in 1996. That agreement allowed villagers to live off land inside Da Pra Ya National Park, but with some restrictions.
"When the officials came after we first planted the trees, we told them we would cut down the trees if they wanted," said Sap Chaihavong, a villager from Nong Pak Van. "But they said it was okay as long as we did not plant anymore."
Two years later, the Nong Pak Van villagers received a court summons from local police regarding the trees. But when villagers showed police the 1996 agreement documents, the authorities decided to pardon them.
"We told the police that we didn't think the agreement said anything about rubber trees," said Mr. Chaihavong. "When they read the agreement they weren't so sure, but they agreed with us. So we continued investing in the plantation."
But the director of Da Pra Ya National Park, Boonchert Jaroensuk, says the 1996 agreement only permits the villagers to grow crops for consumption.
"The compromise only allows planting of living crops such as rice, sugarcane, and potatoes. Rubber plants are economic crops," said Mr. Boonchert. "The fact is, I asked them a long time ago to remove the rubber plants because they violated the compromise we had in 1996."
Mr. Boonchert also says the plot of land cultivated by Nong Pak Wan villagers has grown considerably over the years.
"When the government made this compromise, they surveyed the land in great detail," said Mr. Boonchert. "We know how many crops they had, we know how much land they had. They have been illegally encroaching on the land."
The villagers from Nong Pak Van, who have been living of the land for generations, say they have a difficult time understanding what they are permitted to do under the law. The complex legal documents that outline these boundaries often leave local officials stumped as well.
Mr. Chaihavong, whose rubber trees were cut down last month, says he wishes officials had made their stance on the plantation clear three years ago.
"We are not educated people, so we cannot understand the legal language of the compromise agreement," Mr. Chaihavong said. "If we could have known that this would happen, we would have not planted the trees. We are now in big trouble because we took out big loans to plant these trees."
Most villagers in Nong Pak Van grow rice and potatoes for consumption and trade any surpluses with people from nearby villages for other resources. They do not have any other income and will now struggle to pay off their loans.
Park director Mr. Boonchert says the villagers will not be receiving any compensation.
"In fact, we are also going to ask the civil court to order the villagers to pay for the operation as well," he said.
Mr. Boonchert added that park officials also have plans to cut down a much larger plantation of rubber trees inside the forest that is suspected to belong to a local politician.
"We have already posted a notice and we will begin the operation by late September," Mr. Boonchert said.
Forest communities brace for new policies
Since staging a coup on 22 May, the NCPO has sought to halt deforestation and drive out land encroachers across the country. The Royal Forest Department recently ordered a major reshuffle of 30 park directors in charge of disputed areas.
On 28 June, park officials and military soldiers ordered villagers in Buriram province in Northeastern Thailand to leave their homes by 8 July, or else face a forceful eviction. Park officials and representatives from Buriram's provincial government later agreed to give the villagers new housing and land, though they did not give details about where, how, and when the new housing and land will be provided.
Last week, villagers in Kok Idoi, another village in Da Pra Ya National Park, held a ceremony to honor to the evicted villagers in Buriram. Local forest officials and members of the Assembly of the Poor, a Thai NGO, attended the annual tree-planting ceremony as well.
Although Kok Idoi villagers have not heard from officials about their land-tenure security, news about the Buriram evictions, their neighbors in Nong Pak Van, and reports of other crackdowns across the country have led them to fear for their future.
Like in Nong Pak Van, the Kok Idoi villagers have a compromise agreement with the government that allows them live on the protected land. Because they do not grow trees to sell, local forest officials have allowed the villagers to plant trees every year, though this is technically a breach of their compromise. This year, the forest officials helped villagers plant the trees during their annual ceremony.
Baramee Chairat, a leader of the Assembly of the Poor, has been helping forest-dependent communities like Kok Idoi protect their land and reach compromises with the government since 1994.
"We are trying our best to protect [the villagers]," said Mr. Baramee. "They invited the forestry officials to this event because they want to show them that they're saving the forest: they plant trees regularly."
Community forestry as a solution
With deforestation contributing to 11% of global greenhouse gas emissions, any effective climate change policy must include a plan to combat forest degradation. But despite many country's efforts to curb the trend, deforestation has continued at a rapid rate.
"A major reason is that those who know the forest best – the communities that have lived with them and used them for centuries – are not empowered to protect them," wrote Andrew Steer, President and CEO of World Resources Institute (WRI), in a recent blog post. "Some of the strongest advocates for the world's forests are the communities that depend on them for food, livelihoods and culture."
On 24 July, WRI released a report providing evidence that deforestation has decreased considerably in places where local peoples' rights are given strong legal recognition. According to Mr. Steer, "in the Bolivian Amazon, deforestation was six times lower; in the Brazilian Amazon, 11 times lower; and in the Guatemala Maya Biosphere, 20 times lower."
Although the enforcement of land laws is essential to combating deforestation, involving local people in the process could both strengthen the reforestation effort and help secure the livelihoods of local communities.
"People from the outside think we are destroying the forest – they think we are encroachers," said Uthai Saadchop, a villager from Kok Idoi. "But this is our only livelihood. We do not have any income, so we need to make the forest grow. We have been doing this since the time of our ancestors. If we could cooperate with the government officials to take care of the forest we would be so happy."
For comments, or corrections to this article please contact: [email protected]
You can also find Khaosod English on Twitter and Facebook
http://twitter.com/KhaosodEnglish
http://www.facebook.com/KhaosodEnglish