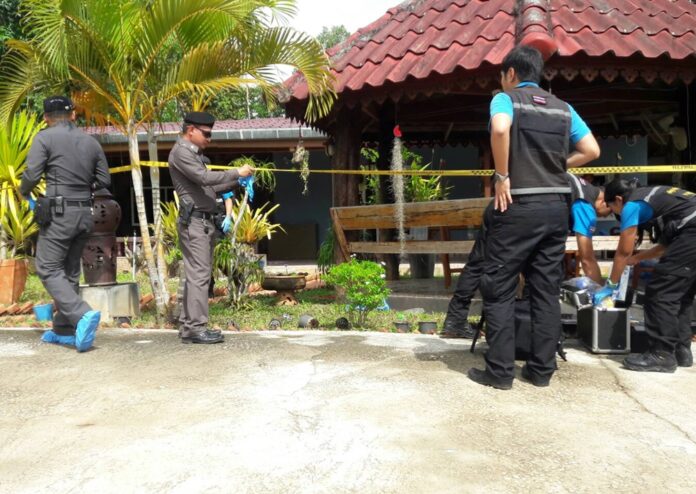 KRABI — An official who was murdered alongside his entire family Monday was at the forefront of efforts to crack down on land encroachment, a relative said.
Gunmen in army fatigues shot and killed Worayuth Sanlang, 46, and seven of his family members – including his three young children – at their home in Krabi on Monday night. Central police have taken over the case, but police commanders on Tuesday refused to disclose details of their investigation to the media, including the possible motive behind the killings.
"We have not concluded anything yet," police commissioner Chakthip Chaijinda told reporters Tuesday in a series of non-answers. "I cannot tell you anything yet. We are working on the matter."
Gunmen in Army Fatigues Murder Family of 8: Police
The shootings at the Sanlang family residence left eight people dead. Three people, a woman and two young children, survived the incident but remain hospitalized. All of them were shot in the head.
While police would not publicly speculate on the motive, Worayuth's father-in-law said the killing could have been related to his duty as a village administrator for Ban Klang community.
Jare Bootterb, whose daughter was also killed in the massacre, told reporters Tuesday that Worayuth spearheaded a campaign to take back more than 100 rai of public lands occupied illegally by local residents.
Worayuth also filed lawsuits against a number of officials for negligence, Jare said, without naming any of them.
Land Wars in Krabi
Similar to its neighboring provinces in the resource-rich southern region, Krabi is fraught with a history of land disputes and misuse of land concessions granted by the government to farmers, commonly known as S.P.K. deeds.
Although the law says S.P.K. concessions can only be granted to low income farmers on the condition that the lands cannot be used for commercial operations, business owners are known to pay farmers to serve as their nominees and build resorts and economic crops on the lands.
Officials vow action on this practice on a yearly basis, and the current military regime that came to power in a 2014 coup is no different. In August the junta invoked its absolute power under Section 44 and seized 10,000 rai of allegedly misused lands in Krabi alone.
An unnamed police source was quoted by some media agencies as saying that Worayuth had recently filed lawsuits against eight residents in Krabi province for land encroachment.
CCTV Missing
The killings of Worayuth and his family attracted much attention – and speculation – due to their audacious nature, even by the standards of a country known for frequent gun violence.
Citing survivors' accounts, police said a group of armed gunmen dressed in army camo entered the Sanlang family home at about 4pm on Monday. The gunmen reportedly identified themselves as soldiers on a drug raid and detained everyone in the residence as they waited for Worayuth to return home.
Once the village chief returned, he was held alongside his family before the gunmen opened fire, police said. Worayuth's car also went missing, presumably stolen by the perpetrators in the aftermath.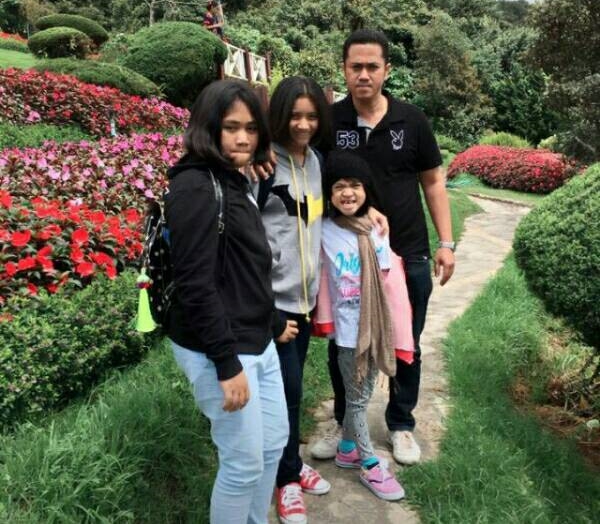 The dead include Worayuth; his wife Duangporn Salang, 36; and his daughters, whose identities have not been disclosed, aged 13, 11 and 6. His relatives Suriya Sanlang, 28; Sutthipong Primdam, 29; Anna Bootterb, 26; and 6-year-old Kingthian Sanlang were also killed.
Investigators from the central police force have been dispatched to take over the case, but police said they have been instructed not to give interviews to the media.
"I cannot give you any news. Please talk to the commander," investigator chief Suthin Sappuang said by phone.
A number of media agencies also quoted police sources as saying the gunmen took off with a hard drive containing footage from security cameras installed at Worayuth's residence.
In an interview with reporters, police commissioner Chakthip would not confirm the report and only said police are investigating all possible leads.
It is also unclear whether the gunmen were security officers or impersonators. Speaking at Tuesday's news conference, junta chairman Prayuth Chan-ocha urged the public to wait for police to solve the case.
"Police will have to investigate everything [including] whether they are officials," Gen. Prayuth said. "If they are indeed officials, then we must find them and jail them. Why would that be so difficult?"