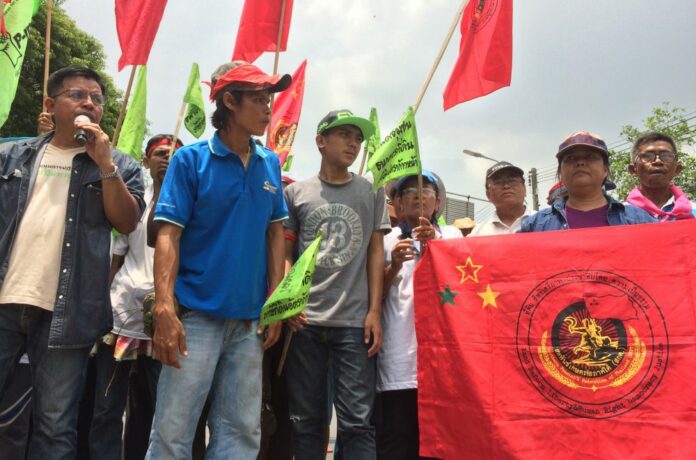 BANGKOK — Government officials vowed to resolve land disputes as demanded protesters who camped out overnight in Bangkok.
Organized under an umbrella group called P-Move, several hundred marchers camped out in front of the Interior Affairs Ministry and demanded the military government do more to protect their land from private seizure, grant citizenship to members of minority groups and compensate those who lost their homes in the junta's eviction campaign.
They also condemned the military for arresting three activist leaders in northern Thailand on Wednesday and blocking two buses of protesters from joining the rally in Bangkok.
Read: Displaced Farmers, Poor Demand Answers From Gov't
"If they can't even solve basic problems such as issuing ID cards to our brothers and sisters, why do they keep staying in power?" protest leader Chamnong Nupan shouted from truck-mounted speakers. "I'm not saying we are here to boot them out, but they should rethink what qualification they have."
P-Move is a coalition of activists who campaign for the disenfranchised and the poor in rural Thailand. Their protests are the latest to flair up under the junta, who came to power in May 2014.
At about 11am, officials invited movement reps to discuss their grievances inside the ministry. They emerged some hours later to announce that the two sides had signed a memorandum of understanding by which the ministry promised to consider granting land deeds to residents in Satun, Phuket, Ranong, Krabi and Phang Nga provinces.
The residents said businesses are claiming ownership over lands their families have lived on for generations, prior to implementation of the present land deed registration system.
"After the tsunami struck, the business owners claimed that our lands belonged to them," said Orawan Hanthale, who hails from Phang Nga. "We have had four prime ministers since then. They said they will resolve the issue but they never did. And now it's the fourth year since the current government came to power."
Sohib Charoensuk said he and his neighbors in Nakhon Si Thammarat province have been fighting without success for decades to get national ID cards.
Their families migrated from what is now Myanmar at a time borders were not well demarcated. Generations of the diaspora have lived and died without ever receiving basic rights and services such as hospital care and policing simply because the state does not recognize them as citizens, he said.
"It's been 18 years since we started the legal fight. Before that, we had been fighting for 40, 50 years about this," Sohib said. "We are alive, yet the government treats us like we are dead."
P-Move also calls on the state to pay compensation to forest dwellers whose communities were evicted by the junta's effort to reclaim the national park. The group said those residents had been living in the forest long before the state designated them as protected areas.
The protesters on Wednesday submitted similar complaints to Government House, the same day three of their coordinators were arrested in Lamphun province and taken to a police station on allegations she disrupting peace and order.
The military also blocked two buses carrying 100 protesters from Chiang Mai and other provinces from traveling to Bangkok. The marchers were forced to sign an agreement not to join the protest in the capital city.