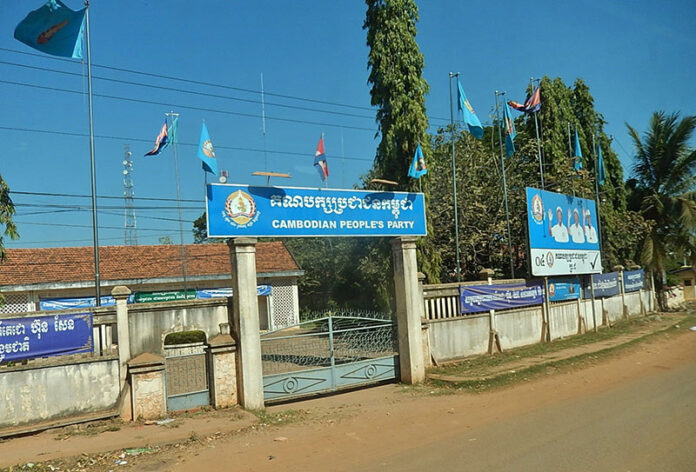 PHNOM PENH — Police in Cambodia are seeking to arrest a woman who was seen on a video clip on Facebook showing her throwing a shoe at a billboard of the ruling Cambodian People's Party.
Sam Sak, a police chief in western Kampong Speu province, said Monday that his force was looking for 38-year-old Sam Sokha, who he said was understood to be a labor activist and supporter of the opposition Cambodia National Rescue Party.
The provincial prosecutor's office issued a summons on Saturday for her to appear for questioning, but when she did not show up and apparently fled her home, it asked police to arrest her. The original charges against her carry a punishment of up to three years in prison, though it appears her arrest is sought for ignoring a summons.
Prime Minister Hun Sen's Cambodian People's Party has been aggressively prosecuting critics and political opponents ahead of nationwide local elections this June, and a general election next year.
Hun Sen has been in power for three decades, and while maintaining a framework of democracy, tolerates little opposition. But his grip on power seemed shaken in 2013's general election, when the Cambodia National Rescue Party mounted a strong challenge, winning 55 seats in the National Assembly and leaving Hun Sen's party with 68.
"Over the last 18 months we have seen repeated examples of the criminal justice system being used to threaten and punish those critical of government as the elections approach, which has already had an alarming and chilling effect on freedom of speech in Cambodia," said Chak Sopheap, executive director of Cambodian Center for Human Rights, commenting on the billboard case.
"People have every right to criticize, insult, and satirize their government or political leaders without fear of retribution," she said. "It is unacceptable and unlawful for state authorities to subject individuals to judicial harassment and potential criminal charges simply for expressing their negative opinion of those in power."
The 13-second video clip of Sam Sokha shows her looking at a roadside ruling party billboard, then throwing one shoe at the image on it of Hun Sen, followed by another at a picture of his party colleague, National Assembly President Heng Samrin.
"This man even came here to destroy the nation," Sam Sokha can be heard saying in the video.
It was not immediately known who originally posted the clip, but it was widely shared on social media.
Kampong Speu provincial court prosecutor Keo Sothea issued a summons Saturday seeking to question Sam Sokha on charges of "insulting and inciting discrimination," crimes that carry a total of up to three years in prison if convicted.
Story: Sopheng Cheang