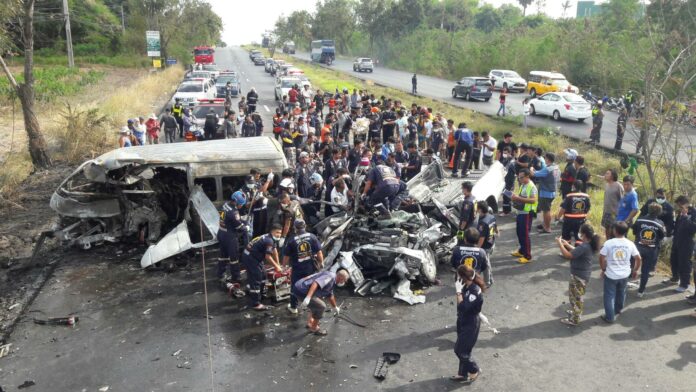 BANGKOK — Starting Tuesday, operators of interprovincial vans will be fined 500 baht if they have more than 13 passengers.
With the Songkran travel exodus from Bangkok out into the provinces set to begin tomorrow, state transport officials are vowing to enforce limits on the vans which are notorious for frequent fatal accidents sometimes blamed on aftermarket modifications.
"We want the fewest casualties as possible in vans starting today, so we're setting step-by-step precautions," Sanit Promwong, director general of the Land Transport Department said Tuesday. "We looked at the seating plans in many interprovincial vans and saw that operators like to squeeze four or even five seats into the last row so they can seat 14 or 15 passengers in the whole van."
Therefore, operators must remove those extra seats in the back row so there is an exit aisle of at least 20 centimeters and carry no more than 13 passengers.
"In an emergency situation, this space helps passengers to exit faster whether through the back or the front doors," Sanit said
The 13-passenger limit in interprovincial vans was announced March 21 and today is when the 500 baht fine for operators goes into effect.
"Most people are cooperating for now," Sanit said Tuesday. The 13-passenger limit does not include the driver.
Thailand has some of the most dangerous roads in the world, and Songkran is one of two periods annually known for a spike in road fatalities which routinely involving motorcycles, alcohol or exhausted drivers.
Most recent efforts to rein in the carnage stem from a Jan. 2 crash in which 25 people riding in a truck and van were killed in Chonburi province. The van driver had been driving for days and dozed off at the wheel.
Related stories:
Here's Why Fewer Will Die on Thai Roads if Vans Replaced
Chonburi Wreck: Van Driver Was Sober but Sleepy
Anger, Anguish as Chonburi Wreck Victims Mourned