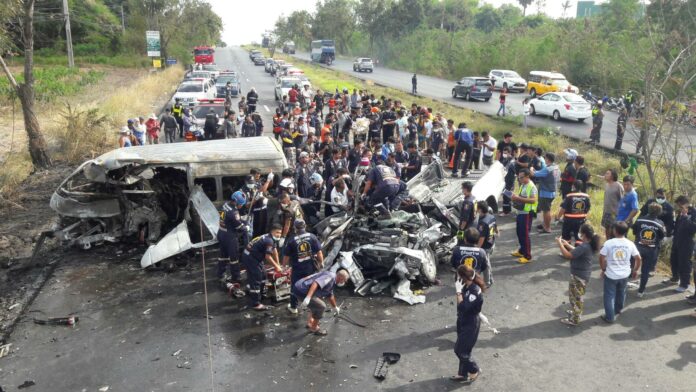 BANGKOK — When the New Year's holiday ended in tragedy for the families of 25 people killed in a flaming wreck in Chonburi, the military government responded with a plan to replace the ubiquitous vans that travel between provinces with minibuses.
While the idea was met with skepticism by a public suddenly demanding urgent solutions, experts who met to discuss the root causes for Thailand's dubious rise to lead the world in road fatalities agreed vans should not be used for traveling across provinces.
"The vans which we are using are modified. It creates more risks," said Thanapong Jinvong, a member of governmental road safety organization. "When the incidents happens, it's difficult to rescue passengers from them."
Under pressure to rein in the carnage, the Department of Land Transportation said it will move forward a plan to phase out the vans in favor of 20-seat buses – originally slated for 2019 – to begin in the middle of this year.
Read: Road Deaths to Persist After Deadliest Holidays in Decade
With 215 accidents, vans were involved in the most public transportation accidents last year, according to a study. Nine people were killed on average and 100 injured each month.
The top causes were reckless driving and aftermarket vehicle modifications which turn them into death traps.
"When accidents happen, vans tend to have more deaths than bigger vehicles due to their structure," civil engineering professor Saksith Chalermpong said at a Friday forum held at Chulalongkorn University.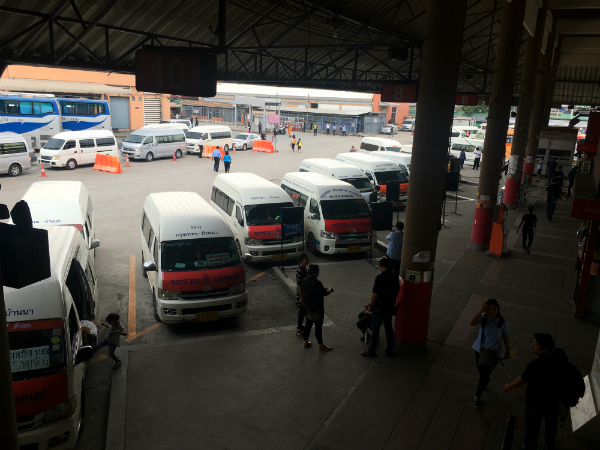 Today's vans are altered from their stock form with an extra row of seats so they can carry 15 passengers instead of 10 or 11. Sometimes it's pushed to 18 seats. The vans have also been modified to run on gas instead of petrol.
But most importantly, vans were not designed to serve as public transportation. A transportation and logistics expert said studies found that in many cases, passengers did not die from the initial impact, but like what happened Jan. 2 in the Chonburi wreck which killed 14 van passengers, because they were trapped inside and burned to death.
"A bus has wider windows and an emergency door," said Sumet Ongkittikul from the Thailand Development Research Institute.
Three experts agreed that despite being inappropriate, vans have become the norm for fast and convenient public transportation in Thailand.
In order to change that decade-old norm, the government must facilitate van operators and passengers to gradually switch to minibuses without sacrificing time or revenue.
A model proposed by Thanapong was a blend of vans and minibuses in service, depending on demand during peak hours – if minibuses prove reliable replacements.
"That's also based on the assumption that minibuses meet standards," he said.
Sumet said the government can start small by reducing the distance vans are allowed to travel from Bangkok, now 300 kilometers, to 200 kilometers and 100 kilometers until they can only offer local services.
Regulations Unenforced
In theory, Land Transport Department regulations say vans can travel no more than 300 kilometers from Bangkok. They are not allowed to travel over 100kph. Every van must be registered and display a yellow license plate, undergo a biannual mechanical inspection and be taken out of service after 10 years.
In practice, the regulations are less than effective. Sumet said authorities never conduct random checks; therefore, drivers always know when to prepare their vehicles to look the best.
Sumet said taking vans out of the equation wouldn't address the problems behind the wheel.
"As important as changing the vehicle model, is changing the habits of drivers and the way van station owners regulate them," Sumet said.
The driver of the van who left the road, crossed the center divider and collided with a truck, killing 25 including himself, was found to be sober. But he had been behind the wheel for at least 31 hours, having driven five back-to-back trips between Chanthaburi province and Bangkok.
"As long as driver income depends on the number of trips they can make daily, I would also want to do more if I was a driver," Thanapong said.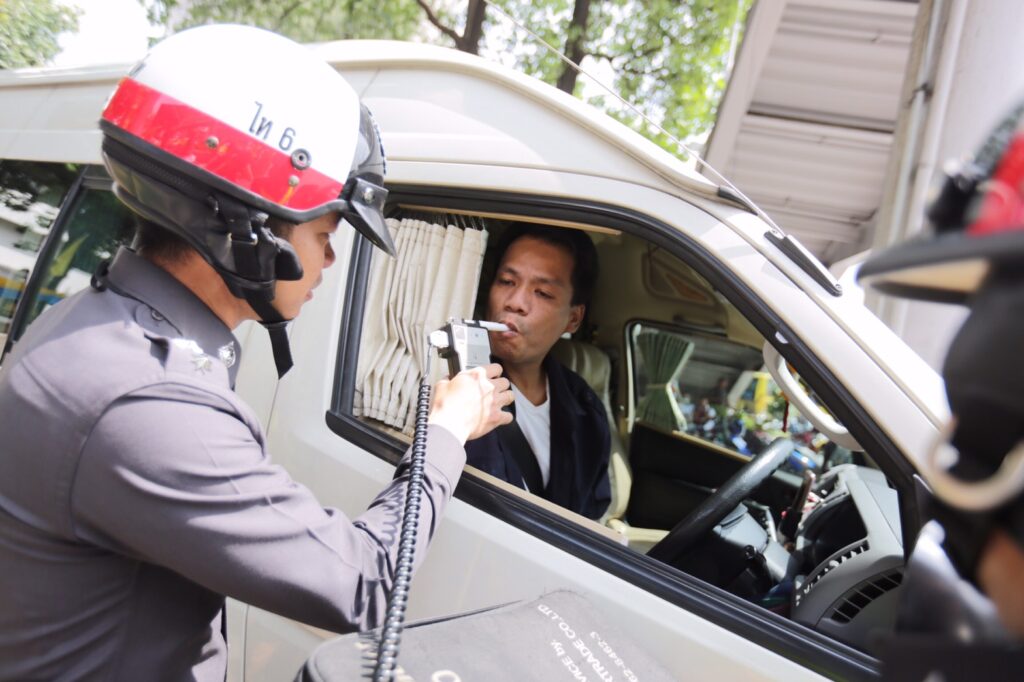 But driver capacity needs not rely on subjective measures, he said, but quantifiable factors such as hours of workload and blood alcohol.
Saksith from Chulalongkorn University said one solution would be to guarantee driver salaries and benefits to remove the incentive of driving as far and as fast as possible.
Following the fatal accident, Prime Minister Prayuth Chan-ocha said stricter law enforcement will be applied in the next three months before the next holiday period, Songkran, arrives in April.
"All public vehicles must have a book recording drivers' names and their operating hours," Prayuth said Wednesday. "We already did our best. We have more checkpoints and more authorities than last year."
Other practical solutions included installing GPS devices in each vehicle, former civilian Transport Minister Chatchart Sitthiphan said at Friday's forum.
"The signal sent back will tell us how fast these vehicles go and how risky a driver has been driving for 24 hours," Chatchart said. "Checkpoints can only check the second the car passes by."
Chatchart said a GPS tracking system already installed on public buses has succeeded in reducing accidents.
Following the deadly crash, the Department of Land Transport suddenly announced all public vans must use such systems by the end of March.
Thanapong from the Road Safety Group said authorities must also tighten registration to allow only qualified public transportation operators.
"The lesson of this story is to know that accidents can happen," Thanapong said. "But what we can do is reduce the chance of losing lives."
Related stories:
Chonburi Wreck: Van Driver Was Sober but Sleepy
Anger, Anguish as Chonburi Wreck Victims Mourned