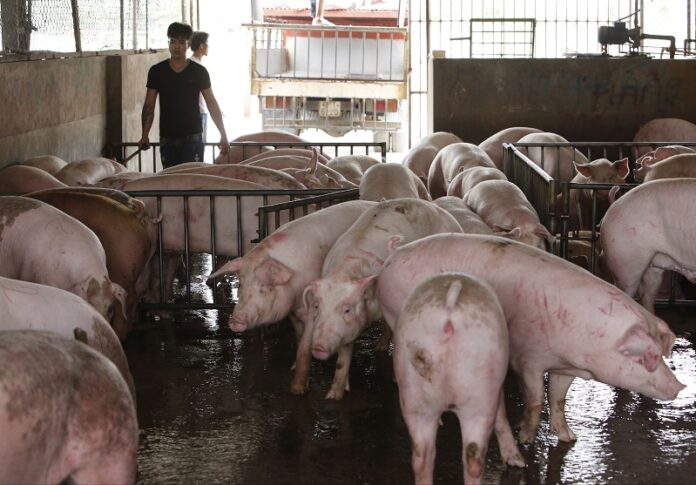 XUAN SON, Vietnam — Pork may be hogging menus in Vietnam's factories and army canteens for some time to come, as the country tries to keep pig farmers stricken by a glut in supply from going under.
Millions of farmers are struggling after China began blocking imports from Vietnam in November. The crisis has highlighted the risks of depending on a single foreign market, especially such a big one: half of all pork the world eats is consumed in China.
Pork prices fell to as low as USD $1 per kilogram in early May, less than half the price a year earlier. So far, a surplus of 300,000 tons to 400,000 tons has accumulated, according to state media.
To help farmers weather the crisis, the military, police and trade unions are boosting pork portions in meals served in their canteens.
At a recent Cabinet meeting, Prime Minister Nguyen Xuan Phuc told officials to review planning of farm production and distribution to prevent future gluts in pork supplies.
The agriculture ministry, meanwhile, is lobbying to increase exports to China and other markets.
The rescue effort may have come too late for farmers like Do Huu Thuyen, who lost all his savings when pork prices recently crashed to record lows.
"The price of pork has never been cheaper," said Thuyen after feeding his herd at his farm in Xuan Son, a village about 55 kilometers (34 miles) northwest of Hanoi.
Vietnam is the world's sixth-largest pork producer with about 3 million households raising pigs, mostly in small, backyard farms. Such small scale farming usually earns them badly needed cash income, but it's relatively inefficient and difficult to regulate.
"If farmers see a chance for profits they will do as they like, as they have done many times before despite cautions from the government," said Nguyen Anh Dung, another pig farmer.
China's crackdown on the border trade was a harsh blow: Vietnamese sold 600,000 tons of pork to Chinese buyers in 2016 through such channels.
It also came at an especially bad time, since many farmers had expanded their herds two years earlier when prices spiked. Pork output in 2016 was 3.9 million tons, triple the output of 15 years earlier, according to the Agriculture Ministry.
Thuyen, 42, says his farm was worth tens of billions of dong (hundreds of thousands of dollars), when he mortgaged his home to expand his herd to 170 breeding pigs and 400 pigs for slaughter. He hasn't sold a single piglet in the last three months because with pork prices so low, nobody wants to raise them.
In six months he lost 2 billion dong (USD $88,000) or 10 years' worth of savings, he says.
"I could go bankrupt, if the price stays the same," he said.
Vietnam's farm ministry is lobbying Beijing to resume imports, and Agriculture Minister Nguyen Xuan Cuong hopes to meet with his Chinese counterpart on the sidelines of a regional forum to be held in Vietnam in November, state-controlled media have reported.
Farmers complain that the winners in this pork crisis are traders who are paying rock bottom prices for pork in a buyers' market, while markets still charge relatively high prices.
Thuyen said he is losing 1.5 million dong (USD $66) for every pig he sells, while traders make that much or more.
"I am waiting for the bank to come to seize my house," he said. "I may have to work as a construction worker to make ends meet."
Story: Tran Van Minh