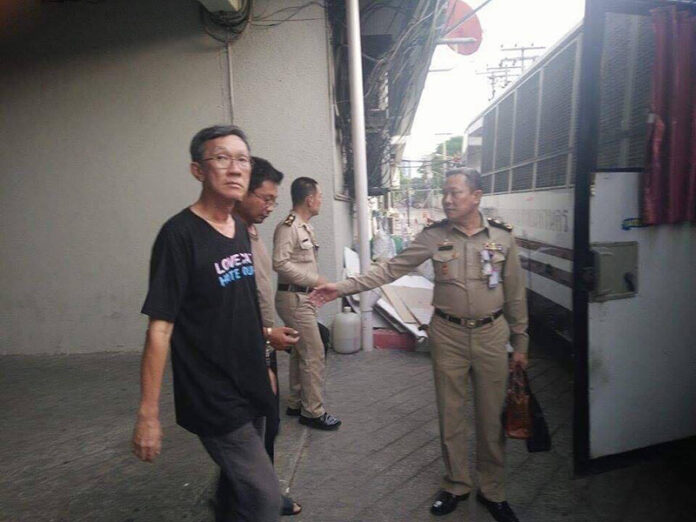 BANGKOK — A landscape architecture professor, fresh law grad, office worker and school teacher were among five people charged along with a human rights lawyer last week for allegedly defaming the royal family.
Details about those arrested along with rights lawyer Prawet Prapanukul, 57, have come from interviews with those close to the cases of the six, who were arrested April 29 in what is thought to be the largest single-day crackdown on lese majeste. It comes as three international rights organizations noted that lese majeste prosecution has surged from the time of the May 2014 coup – when only six people were behind bars for the offense – with more than 100 new cases since then.
The president of a group which assists lese majeste and political prisoners said its volunteers and staff have met and lent assistance to the six suspects. Piyarat Chongthep said the For Friends Association along with Thai Lawyers for Human Rights and the Internet Reform Dialogue agreed not to release names of the five people arrested with Prawet to protect their families and relatives from possible negative repercussions.
Here's what's known about those arrested.
The Landscape Architect
Saran Samantarat is an assistant professor of landscape architecture at Kasetsart University. He holds a doctorate in the built environment from Kasetsart and is listed by researchgate.net as holding interests including urban and rural sociology, philosophy, cultural studies, social and cultural anthropology and comparative religion.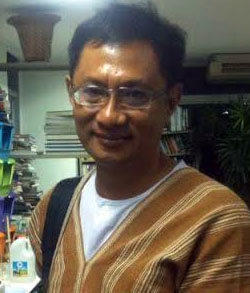 The 54-year-old professor, as with the others except for Prawet, was charged with sharing a Facebook post late last month by an exiled academic about the missing 1932 revolution plaque. The military regime released a bizarre ban lacking any clear legal basis of any online interaction with the academic on April 12. Saran was captured by soldiers in his condominium car park on April 29 and taken to the 11th Military Circle. He was formally charged May 3.
Piyarat of For Friends said Saran is known among activists and rural land-rights advocates.
"He's supposed to be presenting an academic paper in June at a Thai Studies Conference [at Chiang Mai University]," Piyarat said.
"I am his Facebook friend," said Ekachai Hongkangwan, also of For Friends, who visited Saran at prison on Monday. Ekachai said that since he was charged, soldiers have twice visited him at the Bangkok Remand Prison for further interrogation of Saran and the others. "This is not a good sign. They're trying to find connections. He may face additional charges. He didn't say what answers he gave them. This is probably because the visit area is tape-recorded. The situation looks bad."
The Chiang Mai Office Worker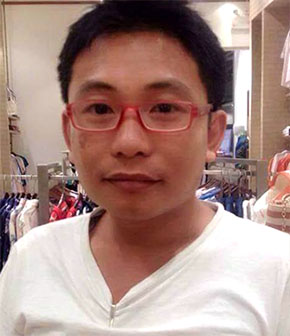 Known among political activists, 30-something Danai Tipsuya was active on social media until his April 29 arrest. The man who professed to a socialist ideology and had only 174 followers on Facebook is charged with lese majeste and violating the Computer Crime Act.
"He probably knew he might be charged as a result," Piyarat said. "He shared it to challenge the state's powers."
Piyanart added that Danai is probably the poorest among the six defendants, and his parents asked the association to especially look after him. Like most others, his last Facebook posting was on April 28, before the arrests the following day.
"Many democracy advocates accept 'fascist powers' as if they are their 'love mates,'" he wrote April 27.
The New Graduate
This 23-year-old man, whose identity remains unknown, just completed a law degree from Ramkhamhaeng University and has yet to walk for his diploma at graduation. Charged with the same crimes as the two above, Piyarat said the young man is committed to a democratic ideology. Since he studied law, Piyarat said the man might have been a convenient target by the authorities because he couldn't claim to not know about the lese majeste law and the Computer Crime Act.
"This man has consistently been making sarcastic remarks about the junta and the monarchy," Piyarat said. His parents from Nakhon Nayok province are farmers, they don't understand the severity of the lese majeste law or why his bail application has been rejected, he added.
The School Teacher
Another 23-year-old man, whose name has been withheld, was a newly appointed Thai-language school teacher in Samut Prakan province, just south of Bangkok. Piyanart believes his parents are royalists and the man, accused of sharing the same post about the plaque, may have formerly been a staunch royalist as well. The family told Thai Human Rights Lawyers that they would appoint a separate lawyer for the defendant.
"When we visited him, he didn't come out to meet us," said Piyarat, adding that a 900,000 baht bond offered by his well-to-do family last week failed to convince the Criminal Court to release him on bail.
Unknown Dairy Product Firm Employee
Very little is know about the 40-year-old man, name also unknown, who works for a well-known firm except that he asked everyone not to name the company he works for, fearing it would affect its reputation.
"We have nothing more on him," Piyarat said.
The Human Rights Lawyer
Prawet Prapanukul, 57, is a human rights lawyer who once represented lese majeste suspect Darunee Charnchoengsilpakul, or Da Torpedo, a well-known Redshirt who eventually was found guilty and served eight years in prison for insulting the monarchy. Prawet has also represented other Redshirts in legal cases, and they consider him as one of their own.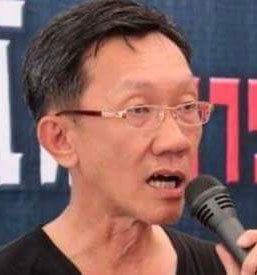 He is the only one of the six who did not appear to share the plaque post but stands accused of 10 counts of violating the lese majeste law and the Computer Crime Act through his own and other Facebook postings. On the royal defamation charges alone, he faces a prison term of up to 150 years.
According to Ekachai, Prawet was arrested by 10 soldiers at his home in metro Bangkok at about 6am on April 29 and detained incommunicado at the 11th Military Circle before being taken on May 3 to the Criminal Court to hear the charges. His phone and computer were confiscated as well. Thai Lawyers for Human Rights reported last Thursday that Prawet staged a hunger strike to protest against being held incommunicado by the military.
Flood of Royal Defamation Cases
Three groups on Monday issued a joint-statement noting that 105 lese majeste cases have been recorded since the May 2014 coup.
"In less than three years, the military junta has generated a surge in the number of political prisoners detained under the lese majeste by abusing a draconian law that is inconsistent with Thailand's international obligations," said Dimitris Christopoulos, president of the Paris-based International Federation for Human Rights.
It was joined by the Union of Civil Liberty and the Internet Law Reform Dialog, or iLaw.
In the report, iLaw's executive director suggested the prosecutions were more about suppressing critics rather than defending the monarchy.
"Many of those arrested are democracy activists and outspoken critics of the military regime," Jon Ungpakorn said. "In some instances, they were kidnapped from their homes by military officers and interrogated in secret for several days in military camps before being formally charged. Lese-majeste defendants are rarely granted bail, and so spend months or even years fighting their cases while in detention. All of this makes a mockery of 'justice' in Thailand's justice system."