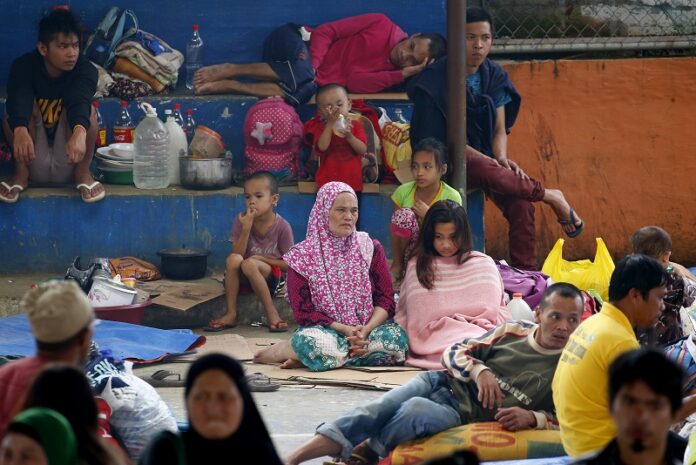 MARAWI, Philippines — Philippine forces launched fresh airstrikes Sunday to drive out militants linked to the Islamic State group after days of fighting left corpses in the streets and hundreds of civilians begging for rescue from a besieged southern city.
The crisis inside Marawi, home to some 200,000 people, has grown increasingly dire as the militants showed unexpected strength, fending off the army and soldiers who went house-to-house in search of gunmen.
The violence prompted President Rodrigo Duterte on Tuesday to declare 60 days of martial law in the southern Philippines, where a Muslim separatist rebellion has raged for decades. But the recent violence has raised fears that extremism is growing as smaller militant groups unify and align themselves with IS.
Thousands of civilians have streamed out of Marawi and more than 2,000 were still trapped inside the city. Many sent desperate text messages begging to be rescued and reporting that their homes had been destroyed, said Zia Alonto Adiong, an official in Lanao del Sur province, one of the country's poorest.
Speaking at an evacuation center outside Marawi, Saddat Liong said his house was hit by mortar fire and burned to the ground. Liong, his wife and eight children lost everything, he said — even their cooking pots.
"I feel that we've lost our city," he said.
Military spokesman Brig. Gen. Restituto Padilla said combat operations were still going on but the militants were weakening.
"We believe they're now low on ammunition and food. Compared to the initial days, there has been increasingly less resistance from the militants within Marawi," he said, speaking by phone from the capital, Manila.
As the government retakes much of the city, the scope of the battle is becoming clearer. Padilla said Sunday the bodies of four men, three women and a child were found near a road close to the Mindanao State University in Marawi.
Eight other men were found gunned down and thrown in a shallow ravine early Sunday in Marawi's Emi village, said police officer Jamail Mangadang. A paper sign attached to one of the men indicated the victims "betrayed their faith," he said.
He identified the men as civilians.
Marawi is a mostly Muslim city.
In addition to the civilian deaths, Padilla said 61 militants, 11 soldiers and four police were among the dead.
The violence erupted Tuesday night when the government launched a raid to capture Ipsilon Hapilon, who is on Washington's list of most-wanted terrorists. But the operation went awry and militants rampaged through the city, torching buildings and battling government forces in the streets.
A priest and several worshipers were taken hostage. There was no word on their condition.
Story: Jim Gomez