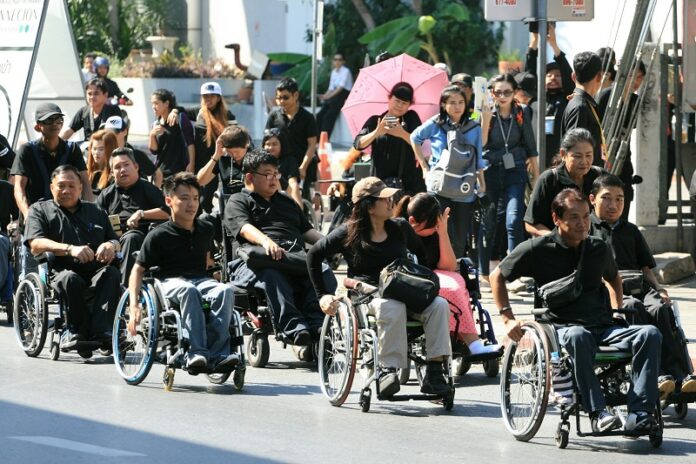 BANGKOK — People with disabilities called for equal-access to the polls come election day, saying it is difficult for them to exercise their right to vote.
The Election Commission meanwhile responded by publishing its first-ever training guidebook for officials and volunteers to ensure voters with disabilities can exercise their rights.
The timing of the next general election is up to anyone's guess, with junta leader Gen. Prayuth Chan-ocha letting slip one of the cards close to his medaled chest to suggest maybe no time soon. But, people with disabilities are taking no chance and demanding the Election Commission do more to facilitate their access to the polls.
Groups of people with disabilities, led by the Universal Foundation for Persons with Disabilities, demanded equal access for people with disabilities to participate in the next general elections in a statement issued Thursday in Bangkok.
Their eight demands included making advanced voting available to people with disabilities, getting all political parties to write policies on disabilities and accessibility into their platforms and make sign language translations available before, during and after elections.
The groups also called for mock elections to be introduced into schools for children with disabilities to familiarize themselves with the process years in advance, and ensuring elections officials and volunteers are trained in supporting people with disabilities.
Montien Boontan, a member of junta-appointed National Legislative Assembly who is himself blind, spoke about political participation for those with disabilities at the foundation Thursday. He called for full and effective participation in politics and elections for people with disabilities.
"Elections are an indispensable prerequisite for democracy," said Montien, who was apologetic about being appointed and not elected to the House of Representatives.
The assembly member called for accessibility for all and urged his peers to empower themselves by getting organized.
Wiriya Namsiripongpan, foundation president, is also blind and a member of the junta-appointed National Reform Steering Assembly, which develops legislation consistent with the military regime's stated aims. He called for a rights-based approach to ensure political participation for people with disabilities.
He said although people with disabilities enjoy the right to vote and some have run in elections since the introduction of the now-defunct 1997 charter, real political participation remains elusive.
The current, junta-sponsored 2017 constitution, while decried by critics as regressive and undemocratic, contains an article stipulating that the Election Commission must facilitate voting by people with disabilities and the elderly.
The commission is publishing guidelines for its officials and volunteers that is expected to be available in August.
As important as what to do is a list of what not to do, according to the latest draft version.
"Do not assist them without first asking if the person wishes assistance," reads one of its 11 don'ts.
It also admonishes against behavior that might be insulting.
"Do not act as if you are blind or can't see anything or not know what you are looking at," it says.
Officials "should not stand above people in a wheelchair if they engage in a lengthy conversation," it reads.
Equally interesting are instructions to count the number of voters with disabilities for later analysis on difficulties and factors hindering them from participating.
The text, which advocates a rights-based approach instead of charity approach, identifies four types of barriers: legal barriers, informational barriers, attitude barriers and physical barriers.
Thipyaporn Khempila, a 29-year-old reporter at ThisAble.me, a news website addressing the community, said it's difficult enough for ordinary people to locate their polling stations, let alone those who are visually impaired.
What's more, Thipyaporn said, many people with disabilities have become apathetic: "People with disabilities don't feel that they can gain anything by voting."
Her colleague, wheelchair-bound Nalutporn Krairiksh, suggests the commission might want to introduce mobile voting units. She said it might be easier than making sure all voting units are accessible and prepared to handle voters with disabilities.
No matter how hard the commission may try, Nalutporn believes some of the major obstacles preventing people from voting are their own families. She said many simply don't see the point of helping their loved ones with disabilities to vote.
"These people must first be made aware that people with disabilities have the right, and that they should safeguard the rights of their family members," Nalutporn said.