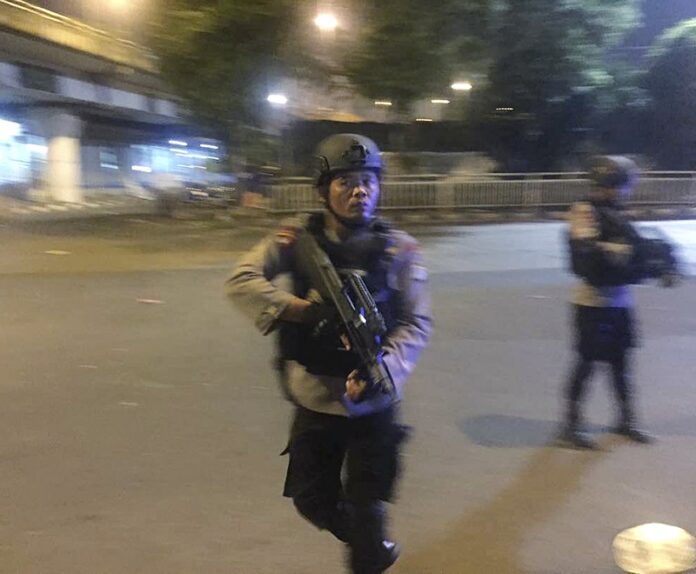 JAKARTA — A suspected Islamic militant stabbed two policemen with a bayonet inside a mosque Friday before being fatally shot by another officer, Indonesian police said.
The attacker used a bayonet to stab the two policemen after they finished Friday night prayers at a mosque near the national police headquarters in Jakarta, national police spokesman Setyo Wasisto said. The officers were hospitalized with injuries to the ear and neck.
Wasisto said the attacker ran out of the mosque and shouted "kafir," which means "infidel" and "Allah Hu Akbar," which means "God is great." Another officer ordered him to surrender, fired warning shots, then shot the attacker.
An identity card was found with the attacker, but Wasisto said that needed to be verified with the address and possibly families before announcing his identity.
It was the second recent attack against police. On Sunday, just before Muslims celebrated the end of Ramadan, two suspected militants attacked a provincial police headquarters in Medan, the provincial capital of North Sumatra, leaving an officer and an assailant dead.
Wielding a knife and a machete, the men stormed the police headquarters and stabbed to death an officer. Responding officers shot the two attackers, killing one and seriously wounding the other.
Indonesia, the world's most populous Muslim nation, has carried out a sustained crackdown on militants since the 2002 Bali bombings that killed 202 people, but a new threat has emerged from Islamic State group sympathizers. In recent years, smaller and less deadly strikes have been targeting the government, mainly police and anti-terrorism forces.
Twin suicide bombings last month killed three officers in the deadliest militant attack in Jakarta in a year. Police have announced that they had arrested 41 suspected militants following the bombing, allegedly carried out by members of Jemaah Anshorut Daulah, which is affiliated with the Islamic State group.