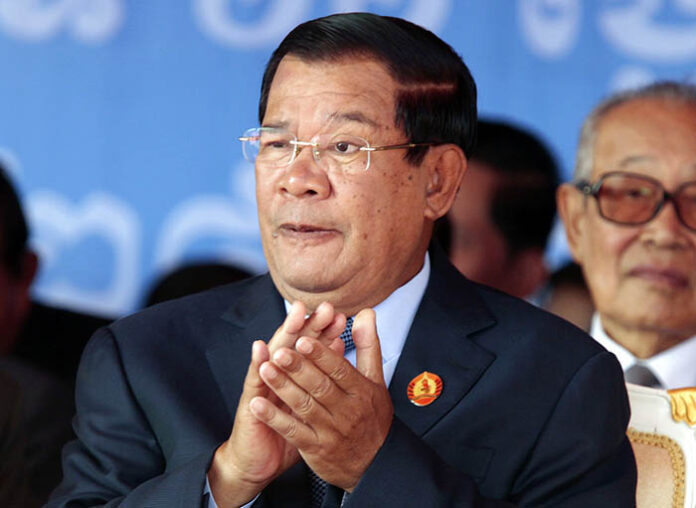 PHNOM PENH — Cambodia announced Friday that its prime minister will make an urgent visit to Laos as he demanded its government withdraw soldiers he claimed are encroaching on territory in northeastern Cambodia.
Cambodia's foreign ministry announced Hun Sen's Saturday trip to the Laotian capital Vientiane after he threatened to use force to expel the Laotian troops if they did not withdraw by Aug. 17.
Cambodia and Laos have generally warm relations as both had fraternal communist governments after 1975. Hun Sen said Friday that the problem began in April when about 30 Laotian soldiers entered a no-man's land on the border to stop Cambodian military engineers from building a road on what Cambodia maintains is its territory in Stung Treng province.
Hun Sen said construction work ceased but the Laotian soldiers remained.
Calls and emails to the Lao Embassy in Phnom Penh were not returned Friday.
Hun Sen said he has ordered his military commanders to be ready to send combat forces to the disputed area but that at the moment a diplomatic solution remains possible. He urged Cambodians not to be alarmed if they see military forces on the move.
"I appeal to Laotian Prime Minister Thongloun Sisoulith to withdraw the forces out of Cambodia without any conditions, and the latest deadline is Aug. 17," he said. "We don't want to have a dispute with Laos but we also cannot allow the situation remain like this anymore."
Hun Sen said he had talked over the phone in recent months with the Laotian prime minister and recently sent him a letter, but had received no official reply. If Thongloun does not want to meet him, he should just withdraw his soldiers, Hun Sen said.
"I want to go to Laos to speak clearly about whether or not the forces will be withdrawn, he said.
A defense ministry spokesman, Chhum Socheat, said the military was prepared for a confrontation and awaited orders, reported Fresh News, an online news service close to the government.
Cambodian media have reported tensions on the border with Laos at least as long ago as February.
Cambodia's last major border disputes were with Thailand from 2008 to 2011, and were widely seen as benefiting Hun Sen politically, as he was able to portray himself as a nationalist protector of the country's territory. His party won a strong victory in the 2008 general election, but lost seats in 2013 and is expected to face a strong challenge next year.
Hun Sen is sometimes regarded as vulnerable on territorial issues. His political opponents accuse him of failing to stand up to alleged encroachment by Vietnam, Cambodia's traditional enemy but whose government is Hun Sen's political ally.