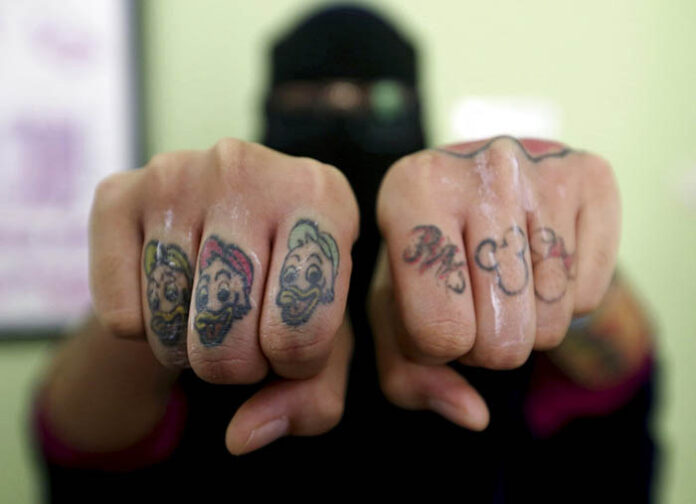 TANGERANG, Indonesia — Each staccato rat-a-tat-tat of the laser firing an intense beam at the elaborate red, green and black dragon on Taufiq Hidayat's arm is, he prays, bringing him closer to God.
The shirtless, slender 30-year-old says he got his back, an arm and a leg tattooed to "look cool" back in the day when "I was a gang member, a thug at the market."
These days, Hidayat has a newfound zeal for Islam that includes the conviction that Muslims should not alter the body that God gave them. He became so desperate to remove the tattoos that he once applied caustic soda, scarring his arm.
Laser removal, which takes repeated treatment and may not be completely successful but is safer than other methods, was out of the question because it costs thousands of dollars for tattoos as extensive as Hidayat's.
Since his self-mutilation, Hidayat has chanced upon a clinic west of the capital, Jakarta, that is offering laser removal for free, on one condition: While being zapped, patients must read and learn by heart Surah Ar-Rahman, the 55th chapter of the Quran about God's gifts to man.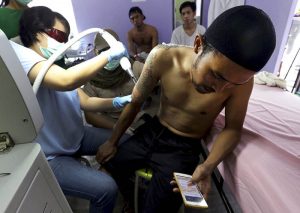 As a clinic worker aimed the white laser wand at Hidayat's skin, blasting the color pigments with its penetrating light, he stared intently at his smartphone, reciting some of the 78 Ar-Rahman verses.
"Now I have a wife and a daughter. Sometimes she buys snacks that come with tattoo stickers that she applies to her skin. I said, 'Don't do it. It's not good for you.' And she replies, 'But you have a lot of tattoos. I wanna be like Daddy.' And in that moment I felt sad," said Hidayat, tears welling in his eyes.
He is among about 1,000 people who have signed up for free tattoo removal, say organizers of the program. About 200 people have finished or are still being treated and others are on a waiting list.
One of the instigators of the program, community activist Ahmad Zaki, first began offering tattoo removal several years ago to young punk rockers in Java who wanted to "berani hijrah" — dare to move closer to God.
Sometimes they had attempted to remove the tattoos in dangerous ways, with chemicals or slashing their skin with razors, he said.
The idea for the clinic in Tangerang grew from a discussion between Zaki and Rizki Sari, a physician who was a high school friend. Zaki said he and other activists collected about $8,000 in donations that helped Sari's clinic buy two lasers. News about the clinic has spread quickly, thanks in part to a "Dare to Hijrah" Instagram account.
"People with tattoos might think that it's art, culture or personal identity, but the community thinks otherwise," said Zaki, who also runs a religious charity sponsored by a local bank. "It's always false gods, satanic, sexual images, and that's not good."
Tattooing has lost much of its stigma in Western societies, becoming more or less mainstream, but in some Asian cultures it remains strongly associated with gangs and criminality. In addition to the religious prohibitions in Muslim-majority Indonesia, ideas about tattoos also reveal oppressive attitudes toward women, who if tattooed can be labeled as promiscuous or disreputable and not worth marrying.
Sri Novianti, who has a large red rose tattooed on one hand, Donald Duck drawings on her fingers and Powerpuff Girls and a ghostly tree on her arms, became a tattooist after graduating from high school because "for me tattoos are like art."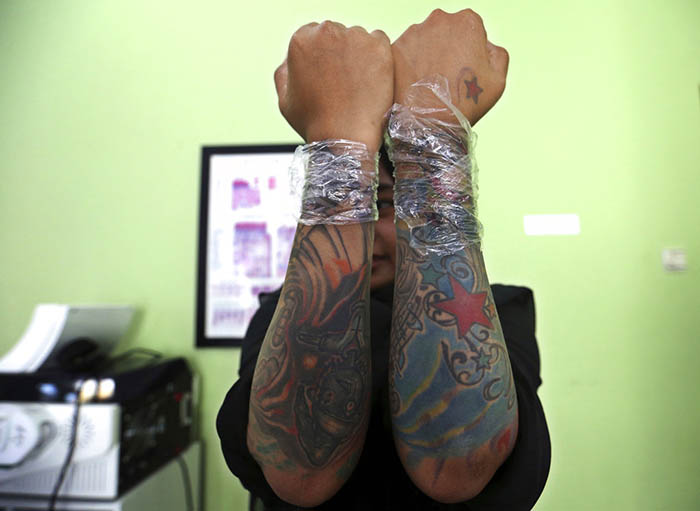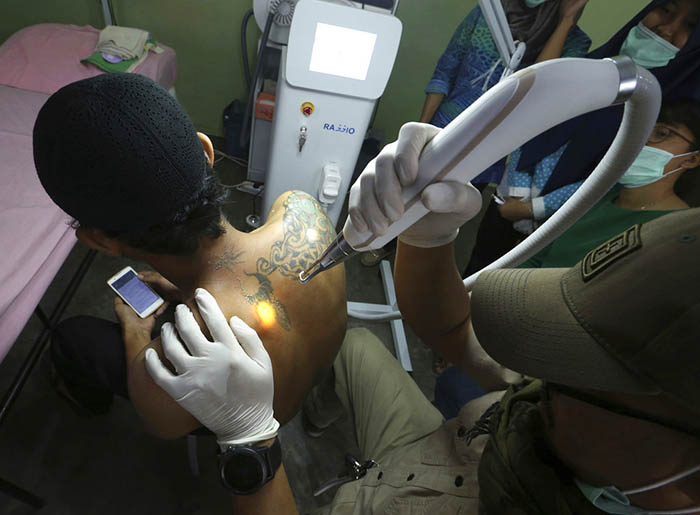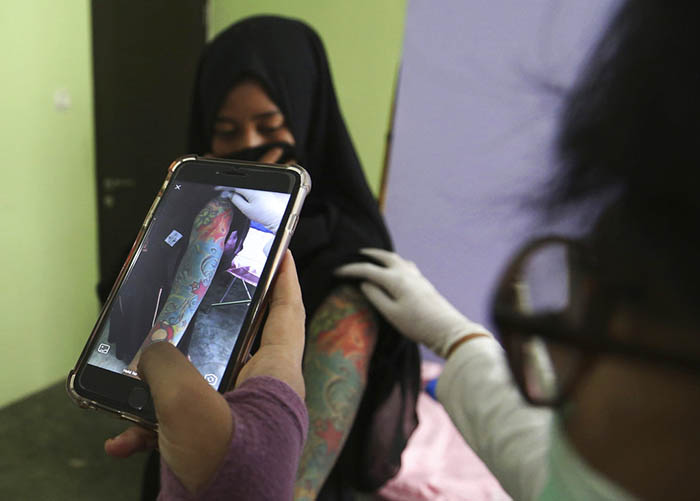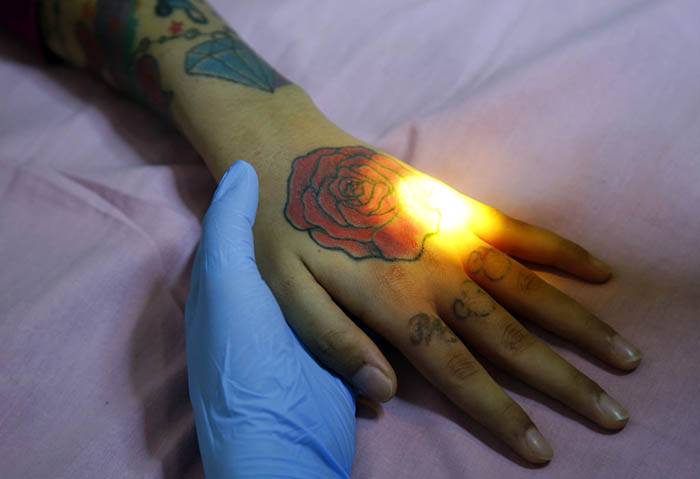 But the 19-year-old now wears a face-covering veil and all-encompassing clothing and wants her tattoos removed because she feels Indonesian men treat her with respect when she is fully covered.
"I saw the eyes of men and boys no longer looking at me in a disgusting way," she said. "Suddenly, for the first time I felt respected. I wanted to keep wearing the hijab, and I felt like I was a different person, an honorable woman."
The tattoos also caused difficulties at her mosque whenever she performed ablutions before praying.
"Many women seem shocked and cannot accept my presence because of my tattoos," Novianti said.
Sari, the doctor, said those accepted for laser treatment are ardent about getting their tattoos removed because the stigma and burden they experience prevents them from fully practicing their religion.
One participant, she said, had tried to iron his own skin in a misguided attempt to remove tattoos.
"Can you imagine the agonizing pain? That's how badly they want their tattoos removed," she said.
Fuad Ahmadi said he got his first tattoo — biomechanical images and his father's birth date — done by friends after he graduated from junior high school. Now 22, he said he's tried calcium hydroxide and other chemicals to remove that and five other tattoos.
"When I die, I want myself clean," he said as he waited at the clinic. "God gave me clean skin and I ruined it."