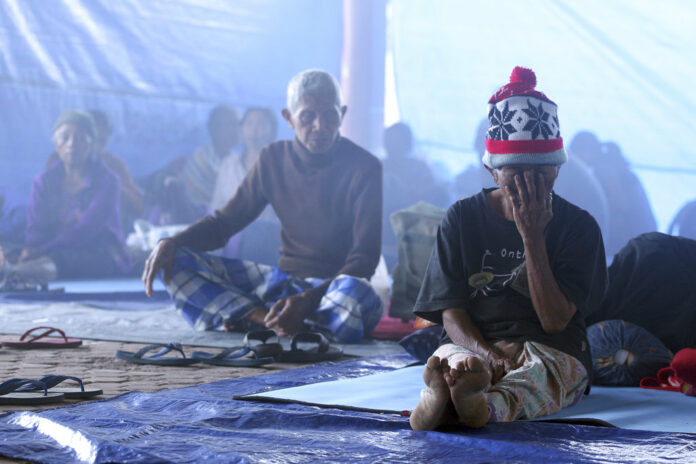 BALI, Indonesia — Thousands of villagers on the Indonesian resort island of Bali huddled Saturday in temporary shelters, sports centers and with relatives, fearing Mount Agung will erupt for the first time in more than half a century.
Authorities raised the volcano's alert status to the highest level Friday following a "tremendous increase" in seismic activity. Its last eruption in 1963 killed 1,100 people.
Villager Made Suda said he left overnight with 25 family members and as much food, clothes, cooking equipment and bedding they could carry to stay in the Klungkung sports center.
"I feel grief and fear, feel sad about leaving the village and leaving four cows because it's empty. Everyone has evacuated," he said Saturday.
The National Disaster Mitigation Agency said no one should be within 9 kilometers of the crater and within 12 kilometers to the north, northeast, southeast and south-southwest where lava flows, lahars or rapidly moving white-hot ash clouds from an eruption could reach.
National Disaster Mitigation Agency spokesman Sutopo Purwo Nugroho said more than 15,000 villagers have been officially evacuated.
Officials have said there is no current danger to people in other parts of Bali, a popular tourist island famous for its surfing, beaches and elegant Hindu culture.
In 1963, the 3,031-meter Agung hurled ash as high as 20 kilometers , according to volcanologists, and remained active for about a year. Lava traveled 7.5 kilometers and ash reached the capital, Jakarta, about 1,000 kilometers away.
"I hope the eruption is not too big and hopefully not many houses are destroyed," said Wayan Yuniartini, who left his village on Friday night with family members.
"I was very worried last night," he said. "At 11.30 p.m. we said 'we have to leave' and many other people in our area were also leaving."
The mountain, 72 kilometers (45 miles) to the northeast of the tourist hotspot of Kuta, is among more than 120 active volcanoes in Indonesia.
The country of thousands of islands is prone to seismic upheaval due to its location on the Pacific "Ring of Fire," an arc of volcanoes and fault lines encircling the Pacific Basin.