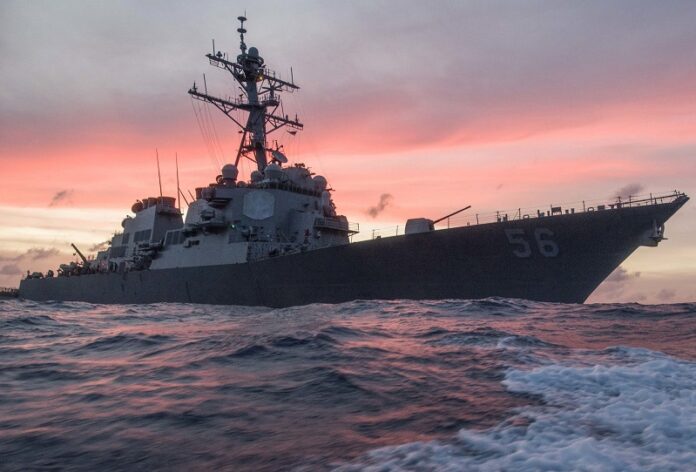 WASHINGTON — The United States shouldn't obstruct efforts by China and its neighbors to agree on a code of conduct in the disputed South China Sea, China's ambassador said Monday as President Donald Trump prepared for his first official visit to Asia.
Ambassador Cui Tiankai said the U.S. has no territorial claim in those waters and should let countries in the region manage their disputes in a "friendly and effective way."
Beijing's island-building in the South China Sea has drawn criticism from Washington which says it has a national interest in freedom of navigation in sea lanes critical for world trade. Secretary of State Rex Tillerson this month said China's "provocative actions" challenge international law and norms.
Efforts to forge a legally binding code of conduct between China and the diverse members of the 10-nation Association of Southeast Asian Nations, or ASEAN, have long been stymied by Beijing's reluctance to negotiate with nations as a bloc and differences within ASEAN itself. Singapore's prime minister last week said the negotiations were likely to take years.
Cui implied that Washington was making that more difficult.
"I think it would certainly be better if others including the United States would not try to interfere in this constructive process, would not try to create obstacles to early agreement on the (code of conduct)," he told reporters at the Chinese Embassy in Washington. "I think that this is our hope. This is also the hope of the ASEAN countries."
Cui was previewing China's preparations for Trump's five-nation trip to Asia that includes a state visit to China. He said it comes at a "very important moment" for relations between the two world powers — building on progress made when Chinese President Xi Jinping met Trump at his Florida resort in April.
The ambassador said North Korea will be a priority in the talks. He warned that tensions over the North's nuclear program could get more dangerous without more efforts to reach a negotiated solution.
Asked whether comments from Trump — who has threatened to "totally destroy" North Korea if it attacks — were making worse, Cui urged all parties to "refrain from doing anything that might escalate the tension."
The ambassador predicted concrete results at the summit on economics and trade but didn't say what they might be. Trump wants to narrow the gaping U.S. trade deficit with China — a goal Cui said China shares although he cautioned it would take time as it was a "structural" problem.
He rejected U.S. accusations that China, the world's second-largest economy and the largest in Asia, was engaged in "predatory" policies at the expense of its neighbors.
Cui said those saying things about China, "might just look into the mirror and it might be describing themselves."