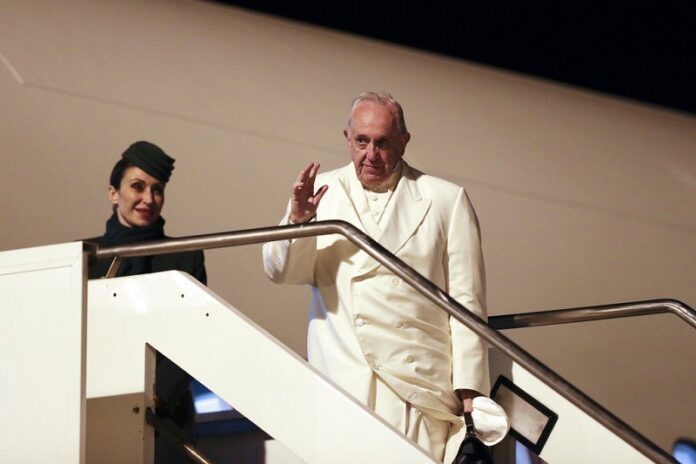 VATICAN CITY — Pope Francis' aim in visiting Myanmar and Bangladesh is to encourage their tiny Catholic communities and bring a message of friendship and peace to some of Asia's most peripheral and poor. The big question looming is whether he'll utter the word "Rohingya" while he's there.
The "will he or won't he?" issue has dominated debate before Francis' trip, which begins Monday when his Alitalia charter flight lands in Yangon and ends with a youth rally in Dhaka on Dec. 2.
In between, Francis will meet separately with Myanmar's civilian leader, Aung San Suu Kyi, its powerful military chief and Buddhist monks. He'll greet a delegation of Rohingya Muslims and meet with Bangladesh's political and religious leadership in Dhaka. Masses for the Catholic faithful and meetings with the local church hierarchy round out the itinerary in each country.
Myanmar's local Catholic Church has publicly urged Francis to avoid using the term, which is shunned by many locally because the ethnic group is not a recognized minority in the country. Rohingya in recent months have been subject to what the United Nations says is a campaign of "textbook ethnic cleansing" by the military in poverty-wracked Rakhine state.
Francis, though, has already prayed for "our Rohingya brothers and sisters," and any decision to avoid the term could be viewed as a capitulation to Myanmar's military and a stain on his legacy of standing up for the most oppressed and marginalized of society, no matter how impolitic.
"Being a religious leader – Catholic leader – means that he is well-regarded, but of course there is this worry if he says something, people might say, 'OK, he just came to meddle,'" said Burmese analyst Khin Zaw Win, a former political prisoner. "So, I think a lot of diplomacy is needed, in addition to the public relations."
The trip was planned before the latest spasm of violence erupted in August, when Rohingya militants attacked security positions in Rakhine. Myanmar security forces responded with a scorched-earth campaign that forced more than 620,000 Rohingya to flee to Bangladesh, where they are living in squalid refugee camps.
The signals from the Vatican going into the trip were mixed: The Vatican spokesman used the term "Rohingya" in a pre-trip briefing and said "It's not a prohibited word" as far as the Vatican was concerned. But the Holy See's top diplomat, Secretary of State Cardinal Pietro Parolin, avoided it in an interview with Vatican media on the eve of the trip.
The debate isn't just semantic: Myanmar's government and most of the Buddhist majority consider them Bengali migrants from Bangladesh living illegally in the country, though Rohingya have lived there for generations.
"It's going to be a tricky situation (if he uses the word), I think because most of the people can't accept it," said farmer Win Myaing.
Seaman Kyaw Thu Maung said the issue is difficult because the term "Rohingya" carries so much political weight for all of Myanmar's people.
"But my feeling is that if the pope is going to talk about the Rakhine issue, the people aren't going to like the pope anymore," he said.
Story: Nicole Winfield