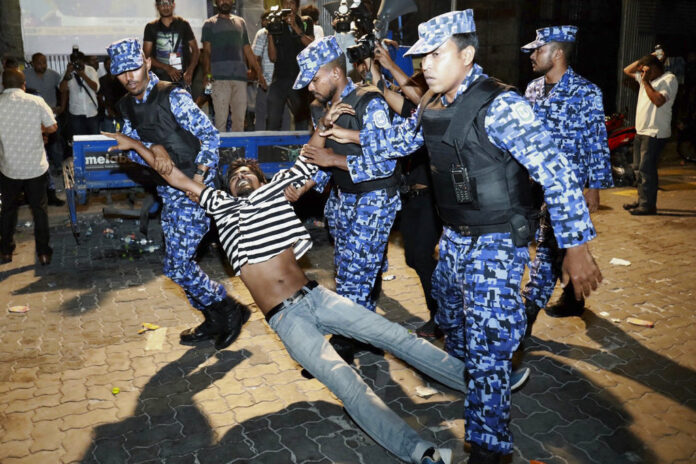 NEW DELHI — As a political crisis plays out in the Maldives, a quiet tug of war is taking place around it, with heavyweights China and India vying for strategic dominance in the picturesque Indian Ocean nation.
At first glance, Beijing and New Delhi want no part in the turmoil that erupted Feb. 1 when the country's Supreme Court overturned the convictions of several opposition politicians, including the president's main rival. Chinese and Indian officials spoke in usual diplomatic tones, saying they have no interest in interfering in the archipelago's internal affairs. But in reality, both have strategic regional interests to safeguard and are jostling for the upper hand.
President Yameen Abdul Gayoom has sent envoys to "friendly nations" China, Pakistan and Saudi Arabia to explain his government's position since he rejected the court ruling, imposed a state of emergency last week and arrested two of the Supreme Court judges. His actions fueled suspicion that he has no intention of easing up on eliminating his rivals and tightening his hold on power ahead of this year's elections.
His most powerful opponent, exiled former President Mohammed Nasheed, appealed to India to send troops to end the crisis.
"On behalf of Maldivian people we humbly request: 1. India to send envoy, backed by its military, to release judges & pol. Detainees … We request a physical presence," Nasheed tweeted last week.
Traditionally the archipelago of 1,200 islands and a population of 390,000 Sunni Muslims has been firmly in New Delhi's sphere of influence, with India even intervening in 1988, when a group of mercenaries tried to seize power. Its support helped keep former strongman Maumoon Abdul Gayoom in power for three decades and later aided Nasheed, the country's first democratically elected leader who became famous when he used his low-lying island nation to highlight the risk of rising sea levels and climate change.
But Male began tilting toward Beijing after Yameen, the half brother of Gayoom, came to power in 2013 by defeating Nasheed.
Yameen has rolled back many of Nasheed's democratic gains, with all of his potential political opponents either jailed or in exile. His government curbed freedom of speech and assembly, with heavy fines imposed on journalists and social media users found guilty of defamation. In 2015, in a trial widely criticized by rights groups, Nasheed was sentenced to 13 years in prison. He later received asylum in Britain.
China saw the developments as an opening.
"Until 2011, China didn't even have an embassy in the Maldives. Coming to 2018, it's seen as a big player in this whole Indian Ocean region," said Mahalakshmi Ganapathy, an India-China expert currently at Singapore's S. Rajaratnam School of International Studies.
When Yameen visited Beijing in December, the two countries signed a free trade agreement that eliminates most tariffs on Maldivian exports, primarily fish, and opens the island nation to Chinese goods and services, including in finance, health care and tourism.
China is already the Maldives primary source of tourists, whose spending largely drives the economy, and Beijing is investing hundreds of millions of dollars in an airport expansion, housing development and other projects.
China now sees the Maldives as a crucial part of its "One Belt One Road" project along ancient trade routes through the Indian Ocean and Central Asia. The initiative envisages building ports, railways and roads to expand trade — and China's influence — in a swathe across Asia, Africa and Europe.
China's massive lending to poor nations for such projects has raised concerns about their ability to repay. Already, Beijing has taken over ports it developed in Sri Lanka and Pakistan on long-term leases.
Nasheed says China is "buying up the Maldives" under Yameen, accusing the president of opening up the floodgates to Chinese investments with little or no oversight and transparency. China has dismissed those allegations.
Beijing is watching the Maldives very carefully. If the political situation turns in Nasheed's favor, that may shift the balance of influence back toward New Delhi.
India is clearly uneasy with China's growing presence in its backyard. What's less clear is how it will respond to the current upheaval in the Maldives.
So far India hasn't responded publicly to Nasheed's demand that it deploy soldiers to end the crisis, and it's held off formally meeting with Yameen's envoy.
But on Friday, India's Ministry of External Affairs issued a carefully worded statement aimed at China.
"We note that China has said that Maldives Government has the ability to protect the security of Chinese personnel and institutions in Maldives. We hope that all countries can play a constructive role in Maldives, instead of doing the opposite."
"India is in a very difficult position," said David Brewster, an expert on Indian Ocean strategic affairs at the National Security College in Canberra. "It would like to see Yameen replaced, but it is not sure how to do that."
He added: ""India's primary concern is not to restore democracy, but rather to reduce China's influence in the country."