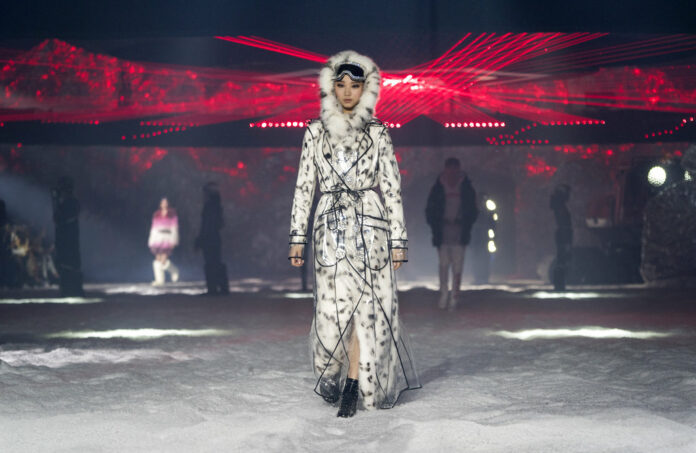 NEW YORK — Provocateur Philipp Plein descended on New York Fashion Week with a giant spaceship, silvery rock formations and Migos lighting up the crowd Saturday night as fake snow fell and covered the floor of a huge industrial space at the Brooklyn Navy Yard.
And there were clothes. Skiwear mostly, lots emblazoned with Plein's name, skulls and crossbones and some Playboy logos.
The show roared to life with a couple of motorcycle riders and a space utility vehicle that plowed through Plein's fake wall of rocks. Later came a schmoozy transformer (big person in costume) who greeted Irina Shayk as she slinked out of the ship in a black bodysuit emblazoned with "I Love You Philipp Plein."
Transformer plus Victoria's Secret model Shayk walked around the snow and Transformer chatted up some of Plein's front row guests. Also, a man with two prosthetic athletic legs ran laps around the cavernous runway at some point.
The German designer who calls New York home is known for splashy shows — and splashy clothes. In September, the rapper Future performed while models walked and Dita Von Teese did a strip tease in a giant martini glass filled with liquid at the famed Hammerstein Ballroom.
This time around, Plein's crowd slogged through a persistent rain to Brooklyn for his spectacle, which started about an hour late, leaving guests to take as many fake snow and space rock selfies as any one human could possibly need.
Spaceship PP (Plein's logo with the first P reversed) was the true star of the show, making its way down from the ceiling with jets smoking, lights flashing and really, really loud sound effects.
Once Plein's models, both men and women, strutted in his array of puffers, fuzzy coats and ed sweaters, he parked them under his mother ship. They got to dance there at the end as after-party guests took their turn in the soggy line outside for the bonus round.
Story: Leanne Italie