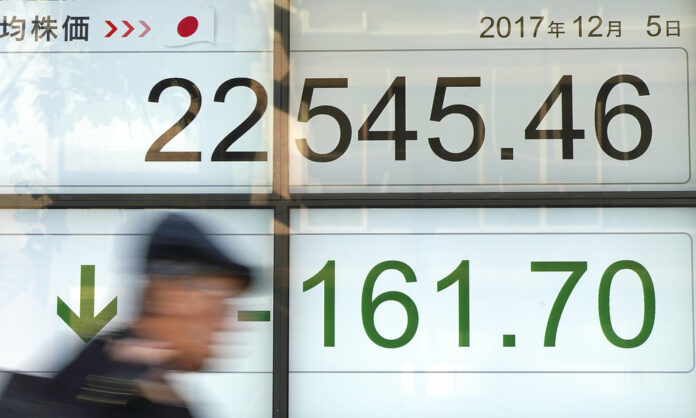 BANGKOK — The Thai economy enjoyed a smooth day on the markets, despite a small hiccup during the closing hours of the today's tradings.
The Stock Exchange of Thailand closed the day up a modest 0.73 percent at 1,799.45 while Hong Kong's Hang Seng added 0.5 percent to 29,661.79. Seoul's Kospi added 0.8 percent to 2,382.14 while Sydney's S&P-ASX 200 shed 0.3 percent 5,819.30. Japanese markets were closed for a holiday. Benchmarks in Taiwan, Singapore and Indonesia gained while New Zealand and the Philippines retreated.
Wall Street: A late rally reversed steep losses Friday and lifted the Dow Jones industrial average more than 300 points. The Dow gained 1.4 percent to 24,190.90. The Standard & Poor's 500 rose 1.5 percent to 2,619.55. The Nasdaq composite added 1.4 percent, to 6,874.49. For the week, the three indexes finished down more than 5 percent. They're also now all in the red for the year.
Analyst's Take: "Higher volatility will likely persist for a little while. Further market downside from here is really a call on upside inflation surprises," said Gaurav Saroliya of Oxford Economics in a report. "We still think inflation will rise only gradually and moderately. The threat to valuation multiples is unlikely to remain as high as it seemed last week," said Saroliya. "The current equity market turmoil is unlikely to dent continued strong global economic growth. We still see 2018 as the best post-financial crisis year."
US Budget Battle: Legislators agreed on a USD$400 billion budget measure after conflicts over immigration and other issues led to the second temporary government shutdown in three weeks. The measure approved Friday increases military spending and provides $89 billion for disaster relief.
Week Ahead: Taiwan is due to report quarterly economic growth on Tuesday. Wednesday brings economic growth from Japan and U.S. inflation and retail sales. The United States reports factory output Thursday.
Energy: Benchmark U.S. crude gained 71 cents to USD$59.91 per barrel in electronic trading on the New York Mercantile Exchange. The contract plunged USD$1.95 on Friday to close at USD$59.20. Brent crude, used to price international oils, advanced 66 cents to USD$63.45 in London. It fell USD$1.98 the previous session.
Currency: The dollar declined to 108.68 yen from Friday's 108.79 yen. The euro gained to USD$1.2282 from USD$1.2251.
Story: John McDonald