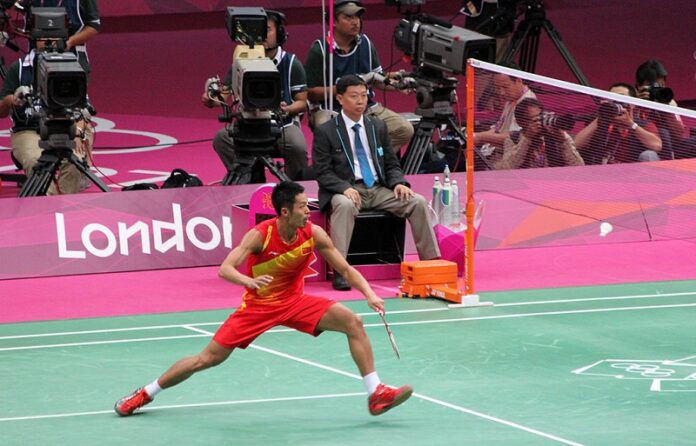 BIRMINGHAM, England — Badminton greats Lin Dan and Lee Chong Wei look likely to contest a 40th installment of their rivalry at the All England Championships starting on Wednesday.
The apparently ageless players have been drawn to meet in the quarterfinals of the world's oldest badminton tournament, with 35-year-old Chong Wei returning as titleholder in what may be his last All England, and Lin, a mere 34, still capable of moments of genius which have made him the most celebrated player of all time.
Chong Wei has also become the top seed following the sudden withdrawal of Viktor Axelsen, the world champion from Denmark, who had an operation on an ankle he injured last month at the Indonesian Masters.
Although Lin is seeded only sixth, he has won 27 of his memorable encounters with Chong Wei, and holds six All England men's singles titles to Chong Wei's four. A seventh would put Lin close to the all-time record of eight won by Indonesia's Rudy Hartono in the 1960s-70s, when the tournament was the unofficial world championship.
The form of the brilliantly versatile left-hander from China may be more variable these days but, when fully prepared, Lin is capable of challenging for major titles, as shown by his run to the world championships final in Glasgow in August.
Lin also knows how much this week means to Chong Wei, who changed his mind about saying farewell to the 118-year-old tournament after regaining the All England title unexpectedly last year. The Malaysian's delight at winning the final against Shi Yuqi, another Chinese player, brought the immediate announcement that he would return for a 14th visit to his favorite tournament.
"Every year I come here I feel like I am playing at home," said Chong Wei, whose light-footed containment and killing ambushes endure.
"You can feel it is different from any other tournament and will always hold a special place in my heart."
If Chong Wei achieves a fifth title, he will have more than any other Malaysian, overtaking two greats of the 1950s, Wong Peng Soon and Eddy Choong.
It may help the winner of a Chong Wei-Lin confrontation that Axelsen is absent, but more immediate beneficiaries should be Son Wan Ho, the fifth-seeded South Korean, and Chen Long, the fourth-seeded Olympic champion from China, who were both drawn in the injured Dane's half.
The women's singles has never had so many potential winners.
Top seed is Tai Tzu Ying, the superbly skillful titleholder from Taiwan, but she has a uniquely high-profile first round against Saina Nehwal, the former world No. 1 from India and a bronze medalist at the London Olympics.
Among Tai's other challengers are two Japanese players, Nozomi Ohuhara, the world champion, and Akane Yamaguchi, the World Superseries titleholder. There's also Carolina Marin, the Olympic champion from Spain, and Ratchanok Intanon, the former world champion from Thailand, and another Indian, Pusarla Sindhu, the worlds runner-up.