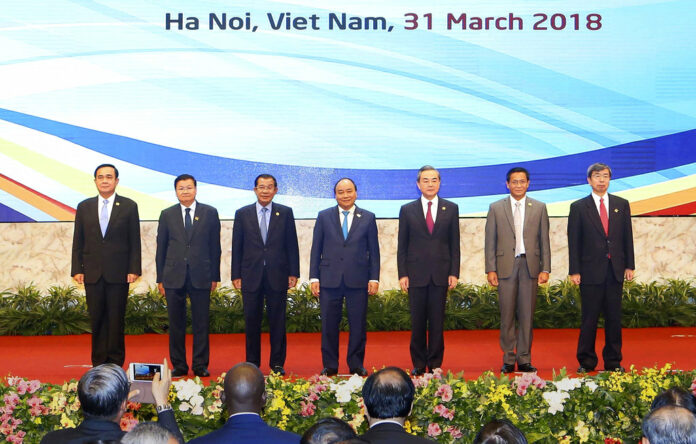 HANOI — The leaders of six countries along the Mekong River on Saturday adopted an ambitious investment plan worth USD$66 billion over the next five years.
At least $7 billion will come from the Asian Development Bank and the rest from governments and the private sector.
The plan was adopted at a summit in Vietnam that included the prime ministers of Cambodia, Laos, Thailand and Vietnam, as well as a vice president of Myanmar and the Chinese foreign minister.
The Greater Mekong Sub-regional (GMS) economic cooperation program was initiated by the ADB in 1992 and has since mobilized $21 billion, with the bulk going to infrastructure projects.
"GMS is starting a new era of development with unprecedented opportunities and challenges which require us to have a creative approach with long term and comprehensive vision in order to tap into the internal power of each country while effectively promoting connectivity to create strength resonance across the GMS for rapid economic growth and harmonizing economic and social development with environmental protection," Vietnamese Prime Minister Nguyen Xuan Phuc said in his opening remarks.
The five countries along with China's Yunnan province and the Guangxi Zhuang Autonomous region with the population of 340 million and combined GDP of $1.3 trillion have recorded one of the world's fastest-growing economies.
Closing the one-day summit, Phuc said cooperation will remain the driving force the region's development.
"I believe that given the results we have realized as well as our solidarity and determination, GMS cooperation will continue to be part of the cooperation mechanism of the region and will make concrete contribution to the economic and social development of member countries, promote sustainable development and reinforce the peaceful and stable environment in the region," he said.
In the meantime, Chinese State Councilor and Foreign Minister Wang Yi said the world's second-biggest economy supports "the multilateral trading system and promotes an open, inclusive and balanced economic globalization that benefits all."
"China has long been an advocate of an open world economy. China is committed to win-win cooperation in opening up and firmly opposes trade protectionism," Wang said. "Protectionism harms others without benefiting oneself – it is a one-way street that leads to nowhere. The right approach to address trade disputes is to conduct consultation in line with international rules and as equals."
President Donald Trump's move last week to impose tariffs on as much as $60 billion on Chinese goods prompted Beijing to consider imposing tariffs on a number of American goods exported into the country.