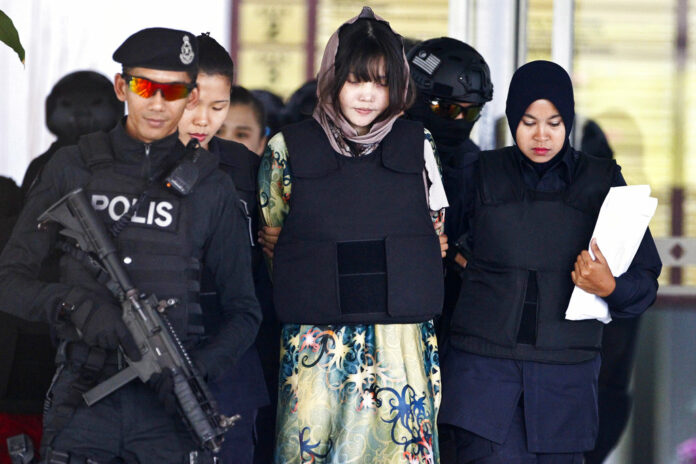 SHAH ALAM, Malaysia — Malaysian prosecutors wrapped up their case Thursday against two Southeast Asian women accused of killing the estranged half brother of North Korea's leader in a brazen attack at an international airport.
Prosecutors told the High Court that they were resting their case against Indonesia's Siti Aisyah, 25, and Vietnam's Doan Thi Huong, 29, after questioning 34 witnesses over six months. The judge said closing arguments in the trial, which could send the women to the gallows if found guilty, will begin on June 27.
Aisyah and Huang are accused of smearing VX nerve agent on Kim Jong Nam's face in a crowded airport terminal in Kuala Lumpur on Feb. 13, 2017. The women have pleaded not guilty, saying they thought they were taking part in a harmless prank for a hidden-camera show.
The two are the only suspects in custody, though prosecutors say four North Koreans who fled the country were also involved.
After the closing arguments, the judge will decide whether there is a case against the women. If he decides there isn't, the women will be freed. If he decides there is, the women will be called to make their defense, which could take several months.
The crux of the case revolves around whether the women intended to kill Kim or if they truly were scapegoats duped by North Korean agents into taking part in a high-profile political assassination.
Defense lawyers said the prosecution's case was too simplistic and failed to show any motive for the killing. They said evidence has shown the women's conduct before and after the killing was inconsistent with that of an assassin, pointing out that they didn't wear gloves when applying VX, didn't dispose of their tainted clothing and didn't flee.
Prosecutors, however, contend the women knew they were handling poison.
Hisyam Teh Poh Teik, Huong's lawyer, told reporters he will argue in closing arguments that the women were deprived of a fair trial due to a sloppy and biased police investigation and the conspicuous absence of the four North Korean suspects.
"We are confident with the innocence of our client because that's the truth," Teh said.
Lead prosecutor Iskandar Ahmad said it was common for an accused person to be charged while other suspects are still at large and that it doesn't affect the case. He said evidence has shown the women's connection with the four North Koreans, who had recruited, trained and supplied VX to them.
"We believe we have a good case," Iskandar told reporters.
Kim, the eldest son in the family that has ruled North Korea since its founding, had been living abroad for years after falling out of favor. It is thought he could have been seen as a threat to Kim Jong Un's rule.
Malaysian officials have never officially accused North Korea of involvement in Kim's death and have made it clear they don't want the trial politicized.
Story: Eileen Ng