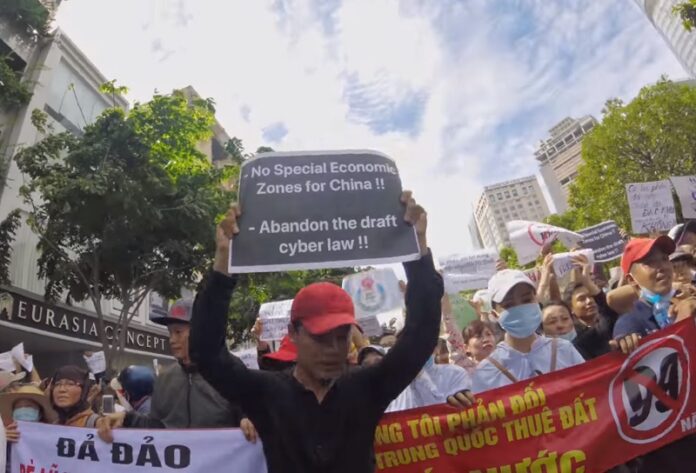 HANOI — A court in southern Vietnam is scheduled to put on trial next week an American citizen of Vietnamese descent accused of disturbing public order after he took part in rare protests, state media reported Friday.
William Nguyen, from Houston, Texas, was arrested on June 10 after participating in protests in the southern commercial hub of Ho Chi Minh City against a proposed law on special economic zones that some fear would be dominated by Chinese investors.
State-run Tuoi Tre newspaper quoted the indictment as saying Nguyen, 35, called on other protesters to overrun police barricades as they marched from a park near the city's international airport to the city center.
A video from the protests shows Nguyen with blood on his face being dragged by a group of men. He is later shown standing on the bed of a police pickup truck.
The indictment said Nguyen climbed into one of the four police pickups, which were placed to block a road, and urged others to climb over the vehicles to continue their march. The indictment said his actions "seriously violated public order and badly affected security order, social safety and needs to be dealt with seriously."
Nguyen could be sentenced to seven years in prison if convicted. His trial set for July 20.
Court officials were not available for comment Friday and the U.S Embassy did not immediately respond to request for comments.
The newspaper quoted prosecutors as saying that Nguyen's prison sentence can be reduced if he shows remorse.
According to the report, Nguyen told investigators he was aware that participating in protests is illegal in Vietnam and he did not do any research on the proposed laws on special economic zones and cybersecurity, but still came to Vietnam to join the protests.
Rallies against the proposed law took place around the country. Six people have been sentenced to up to 2 ½-year in prison in south-central Binh Thuan province on charges of disturbing order.
The protesters fear the three proposed special economic zones where land could be rented for up to 99 years would be dominated by Chinese investors. Lawmakers postponed passage of the law until the next session in October to allow more research.
Mistrust of China runs deep in Vietnam, one of the most outspoken critics of Chinese construction and militarization of artificial islands in the South China Sea's disputed waters.