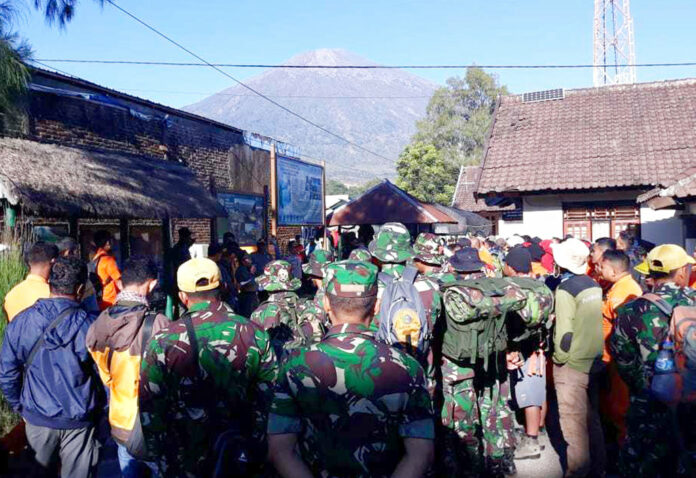 SEMBALUN, Indonesia — A strong earthquake jolted the Indonesian tourist island of Lombok on Sunday, causing landslides and damaging buildings, as the island tries to recover from a temblor earlier this month that killed hundreds of people.
The U.S. Geological Survey measured the late-morning quake, which was centered in Lombok's northeast, at magnitude 6.3 with a depth of 7 kilometers. It was felt on the neighboring island of Bali and was preceded a few minutes earlier by a magnitude 5.4 quake, also in Lombok's northeast.
As of Sunday evening, there were no reports of any injuries or fatalities.
An Associated Press reporter on Lombok said the quake caused landslides on the slopes of Mount Rinjani, an active volcano, and panic in villages. Video shot by the Indonesian Red Cross showed huge clouds of dust billowing from the mountain's slopes.
The shaking toppled motorcycles and there was damage to buildings in Sembalun subdistrict, including a community hall that collapsed. The hall had sustained damage in earlier quakes, said National Disaster Mitigation Agency spokesman Sutopo Purwo Nugroho. Homes and a mosque were also damaged, he said.
A magnitude 7.0 quake that struck Lombok on Aug. 5 killed 460 people, damaged tens of thousands of homes and displaced several hundred thousand people.
Mount Rinjani has been closed to visitors following a July earthquake that killed 16 people, triggered landslides and stranded hundreds of tourists on the mountain.
Indonesia, a sprawling archipelago that straddles the Pacific "Ring of Fire," is prone to earthquakes and volcanic eruptions.
Story: Rosidin Sembahulun