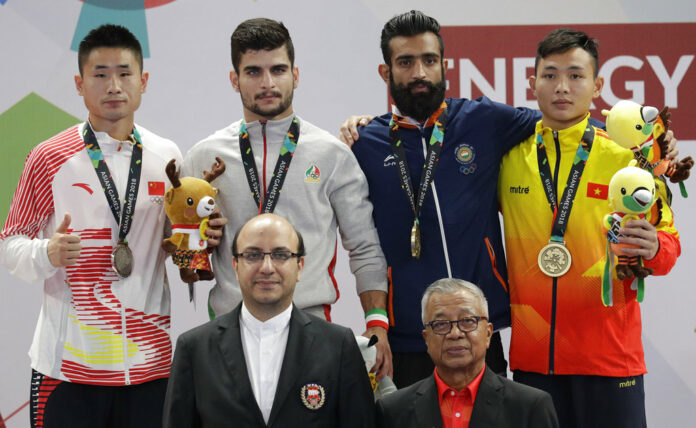 JAKARTA — Alexey Lutsenko left it late in the road race before edging Fumiyuko Beppu in a desperate sprint to the finish for Asian Games gold.
The Kazakh rider, who placed ninth at last year's world championships, finished the scenic 145.5-kilometer (-mile) course at Subang in West Java in 3 hours, 25 minutes and 25 seconds and finished in a scramble of four riders.
Beppu held on to take silver for Japan, with Liphongyu Navuti and Chawchiangkwang Peerapol finishing third and fourth for Thailand.
Jang Kyung-gu, who won the road race on home soil at the 2014 Asian Games at Incheon, was 27 seconds behind the leading bunch in sixth place.
China's medal tally hit 100 midway through the fifth day of competition, and more than half of them – 51 – gold. At the same time, after 132 finals, Japan was in second spot with 20 gold medals and 73 overall.China didn't feature in the road race but dominated in the rowing, winning six of the first eight finals.
The sequence of gold for China was broken initially only by Uzbek pair Shakhboz Kholmurzaev and Shakhboz Abdujabborov won the double sculls and the Vietnam crew of Ta Thanh Huyen, Luong Thi Thao, Ho Thi Ly and Pham Thi Thao in the lightweight women's quadruple sculls.
Four of the six wushu gold medals in the sanda discipline went to China as well, with Iran collecting the other two via Erfan Ahangarian in the 60-kilogram division and Mohsen Mohammadseifi winning the 70-kilogram class.