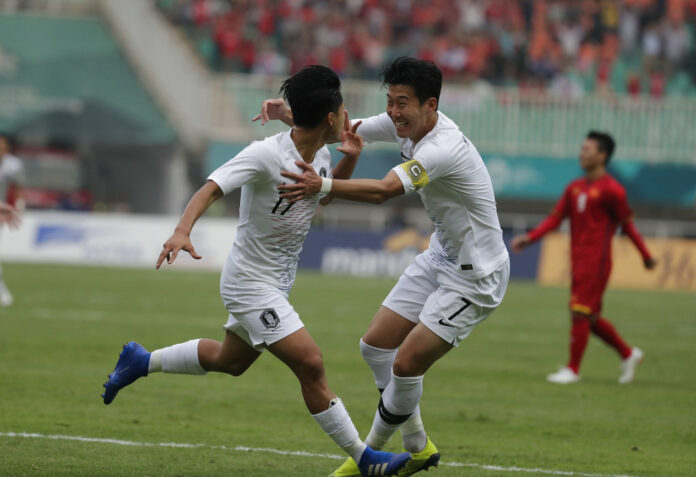 JAKARTA — Tottenham forward Son Heung-min will get one more shot at an exemption from military service after helping South Korea reach the final at the Asian Games.
Son took leave from the Premier League to join the South Korea squad in Indonesia in pursuit of an Asian Games title. He figured a short break now could save him two seasons on the sidelines later.
The South Korean government rewards Asian Games gold medals and Olympic medals of any kind with an exemption from the compulsory 21-month national service. Failing that, the 26-year-old Son would have to report for duty within the next couple of years.
Lee Seung-woo scored twice and Hwang Ui-jo added to his tournament tally to give defending champion South Korea a 3-0 lead in Wednesday's semifinals at Pakan Sari Stadium before Tran Minh Vuong pulled one back for Vietnam with a well-taken free kick in the 70th minute.
Son was replaced two minutes later and South Korea hung on for a 3-1 win to advance to Saturday's final against Japan, which beat United Arab Emirates 1-0.
The South Koreans are aiming for a record fifth Asian Games title and Son, who missed the 2014 tournament on home soil, is taking it extremely seriously. So seriously he didn't stay up to watch a live broadcast of his Tottenham teammates beating Manchester United 3-0 at Old Trafford earlier this week.
"Nah, the game was too late … was difficult to watch but I was very happy (for) my team," he said.
That goes for Spurs, and for South Korea. In a response to a question about an exemption from military service, Son said only that he was "happy to make the history" in what would be a win-win for himself and his country.
"I think the players mentally, we are close to win, and close to gold," Son said. "We fight for that, I don't need to say anything, you know, I'm ready for that … to make history."
China maintained its top spot in the track and field standings with one day to go in athletics competition with golds in both the 20-kilometer walks.
World champion Yang Jiayu held off 2012 Olympic silver medalist Qieyang Shijie to win in a games record 1 hour, 29 minutes, 15 seconds in the women's race and Wang Kaihua won the men's title.
India moved up to third on the track behind China (11 golds) and Bahrain (9) after collecting its fourth and fifth gold medals from Arpinder Singh in the triple jump and Swapna Barman in the heptathlon.
The medalists in the women's 200 meters finished in the same order as the 100, with Edidiong Odiong of Bahrain winning in 22.96 seconds. Dutee Chand of India and Wei Yongli of China followed.
Yuki Koike of Japan won the men's 200 in 20.23 in a photo finish, beating Yang Chun-han of Taiwan.
Ehsan Hadadi of Iran, the 2012 Olympic silver medalist, won his fourth straight Asian Games discus gold medal with a best throw of 65.71 meters.
In co-host city Palembang, Japan won three of the four gold medals in skateboarding with teenagers Sakura Yosozumi and Kensuke Sasaoke providing a next-generation entree to the 2020 Tokyo Olympics with victories in the park final discipline.
Indonesian 12-year-old Bunga Nyimas won bronze in the street final behind Margie Didal of Philippines. World Cup bronze medalist Keyaki Ike won the men's street final.
Skateboarding will debut on the sports program at the Olympics in Tokyo.
China won the artistic swimming team free routine title for the fourth consecutive games, taking gold ahead of Japan and North Korea.
After 352 finals, China had an almost insurmountable lead in the medal standings with 101 golds and 217 overall. Japan was next with 51 gold medals and 161 overall.
Story: Josh Pye