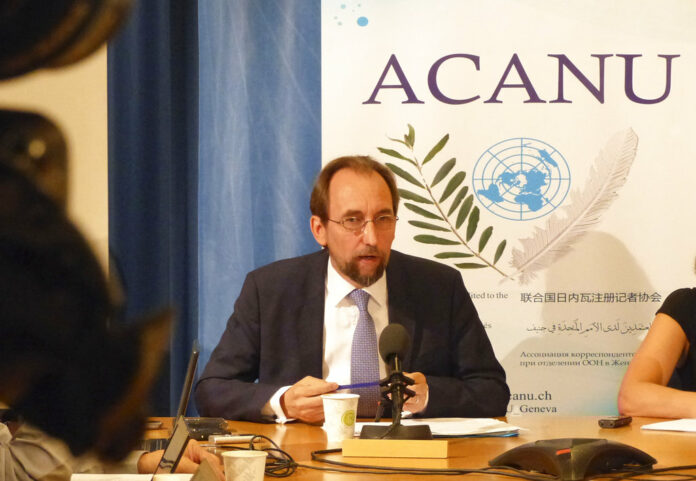 GENEVA — Threatened U.S. funding cuts wouldn't be "fatal" for his office, the United Nations' human rights chief said Wednesday, but he added that he hoped other countries won't follow suit.
Zeid Ra'ad al-Hussein insisted "the office will continue to survive" even if the U.S. carries out the promise made by U.S. National Security Adviser John Bolton in an interview with The Associated Press last week.
Zeid told reporters Wednesday that "clearly what one doesn't want to see is a whole series of withdrawals and withdrawal of funding."
Bolton's pledge that the U.S. will cut funding to the rights office and the U.N.'s top human rights body was the latest Trump administration salvo against U.N. institutions. The U.S. is the U.N.'s largest single donor, providing about 22 percent of its budget, and the rights office gets much of its funding through the general U.N. budget.
But Bolton's warning about the budgetary axe didn't deter the rights chief, who gained praise from many human rights advocates for being outspoken and unafraid to challenge governments, from reiterating his concerns about President Donald Trump's rhetoric.
Zeid, who is a Jordanian prince, repeated his previous concerns about Trump's "very worrisome" attacks on journalists.
He added that "the conduct of the president should be under very careful scrutiny by the international community, by this office" during the upcoming mid-term election cycle in the United States.
The comments came at a wide-ranging news conference before the expiry of Zeid's four-year term at the end of this month. He will be replaced as U.N. High Commissioner for Human Rights by former Chilean President Michelle Bachelet.
He also expressed concerns about rising far-right nationalism in Europe, and noted recent reports by U.N. investigators that condemned abuses in places like Yemen, Myanmar and Nicaragua. He said he would urge his successor to be outspoken when she sees rights abuses around the world.
He also reviewed his tenure, pointing to new U.N. human rights monitoring offices set up in that time in countries including Honduras and South Korea, a post to monitor possible abuses in the North.