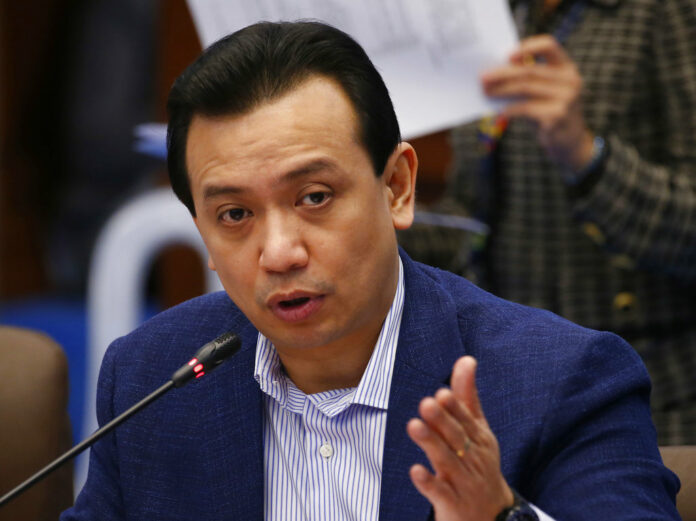 MANILA — Philippine President Rodrigo Duterte has ordered the arrest of his fiercest critic in Congress after revoking the senator's amnesty for involvement in unsuccessful military uprisings years ago.
Sen. Antonio Trillanes IV condemned Duterte's move, which was made public Tuesday, as illegal and draconian but said he would not resist arrest. After Senate leaders said they would not allow his arrest in the Senate, Trillanes said he would stay within the building while arresting officers waited outside in a looming standoff.
"We're living basically in a de facto martial law environment of the '70s kind," Trillanes told a throng of journalists and followers, referring to the martial law declared by dictator Ferdinand Marcos in 1972, which is regarded as a dark chapter in Philippine history.
Some opposition politicians and followers visited the Senate to show support for Trillanes, a 47-year-old former navy officer who was detained for years before his election to the Senate for involvement in three military uprisings from 2003 to 2007 to protest official corruption.
Duterte ordered the Department of Justice and the military to pursue criminal complaints against the senator after his amnesty was invalidated. Military spokesman Col. Edgard Arevalo said Trillanes "will be reverted to his status as active military personnel subject to military law and military discipline," adding that a military court may be reconstituted to try him.
Trillanes received an amnesty under Duterte's predecessor, President Benigno Aquino III. Several young military officers who were detained for joining failed coup attempts and uprisings against Aquino's predecessor, Gloria Macapagal Arroyo, were also granted amnesties, but only Trillanes' has been voided so far.
Trillanes said his lawyers would petition the Supreme Court to fight the move by Duterte, who is on a visit to Israel.
"They're bending the law to be able to do their political objective, which is to persecute the political opposition," Trillanes said.
Justice Secretary Menardo Guevarra told a news conference that Duterte signed a proclamation last week voiding Trillanes' 2011 amnesty because the senator had failed to comply with all of its requirements, including a clear admission of his involvement in past coup attempts.
Trillanes cannot invoke his congressional immunity from arrest because the crimes he allegedly committed, including rebellion, were serious and punishable by life imprisonment, Guevarra said.
During a televised Senate session, however, Trillanes showed video footage and news reports denying Duterte's basis for voiding his amnesty. The news reports showed an image of his amnesty application, which officials said they could not find, and carried remarks by Trillanes acknowledging his participation in the uprisings.
Opposition Sen. Franklin Drilon said all rebellion and coup-related cases against Trillanes were dismissed by a court after he was amnestied. The government could not renew those cases now because it would amount to "double jeopardy," which is forbidden, Drilon said.
Presidential spokesman Harry Roque told reporters in Israel that the move against Trillanes was not political persecution, saying the government was just enforcing the law.
Duterte has openly expressed anger against Trillanes, who has accused him of large-scale corruption and involvement in illegal drugs. The volatile president has repeatedly denied the allegations.
Aside from Trillanes, another opposition senator, Leila de Lima, has been detained after being accused by Duterte of involvement in illegal drugs, a crime she has vehemently denied. A former human rights commission chief, de Lima investigated Duterte's alleged role in extrajudicial killings when he served as mayor of southern Davao city for years.
Another Duterte critic, Maria Lourdes Sereno, was ousted by fellow justices from the Supreme Court in May after the government alleged that her appointment by Duterte's predecessor was legally flawed and petitioned for her removal.
Prominent Malaysian politician Anwar Ibrahim, who delivered a speech Tuesday at a business forum in Manila, said he was unaware of details of Trillanes' case when asked for his reaction at a news conference. But Anwar added that he would "certainly want" Duterte "to continue to ensure that there is a vibrant democracy and respect for the rule of law in the Philippines."
"My consistent view is that you cannot abuse power to victimize the opposition or dissidents," said Anwar, a former Malaysian deputy prime minister who spent years in jail after being convicted on sodomy and corruption charges that he says were politically motivated.
Story: Jim Gomez