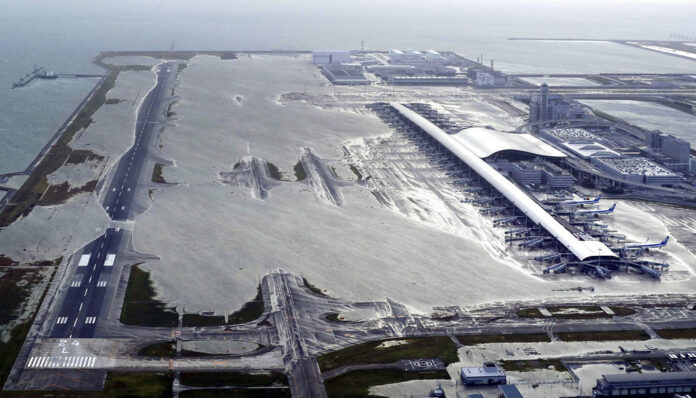 TOKYO — People stranded at a flooded offshore airport overnight returned by boat and bus to the Japanese mainland Wednesday morning after a typhoon swept across part of Japan's main island.
Japanese broadcaster NHK showed aerial footage of the boat and a caravan of buses transporting about 3,000 people from Kansai International Airport across a partially damaged bridge under sunny skies. The airport that serves Osaka, one of Japan's largest cities, remains closed.
Typhoon Jebi peeled roofs off buildings, toppled power poles and damaged businesses as it crossed Japan's main island Tuesday. Japanese media tallied at least nine deaths, and the Fire and Disaster Management Agency said more than 200 people were injured.
More than 1 million households remained without power Wednesday morning.
Jebi, reportedly the strongest typhoon to make landfall in Japan since 1993, has been downgraded to a tropical storm and is heading north of Japan.
Kansai International Airport is built on artificial islands in Osaka Bay, and the high seas flooded one of its two runways, cargo storage and other facilities, said the Ministry of Land, Infrastructure, Transport and Tourism. One passenger was slightly injured by shards from a window shattered by the storm.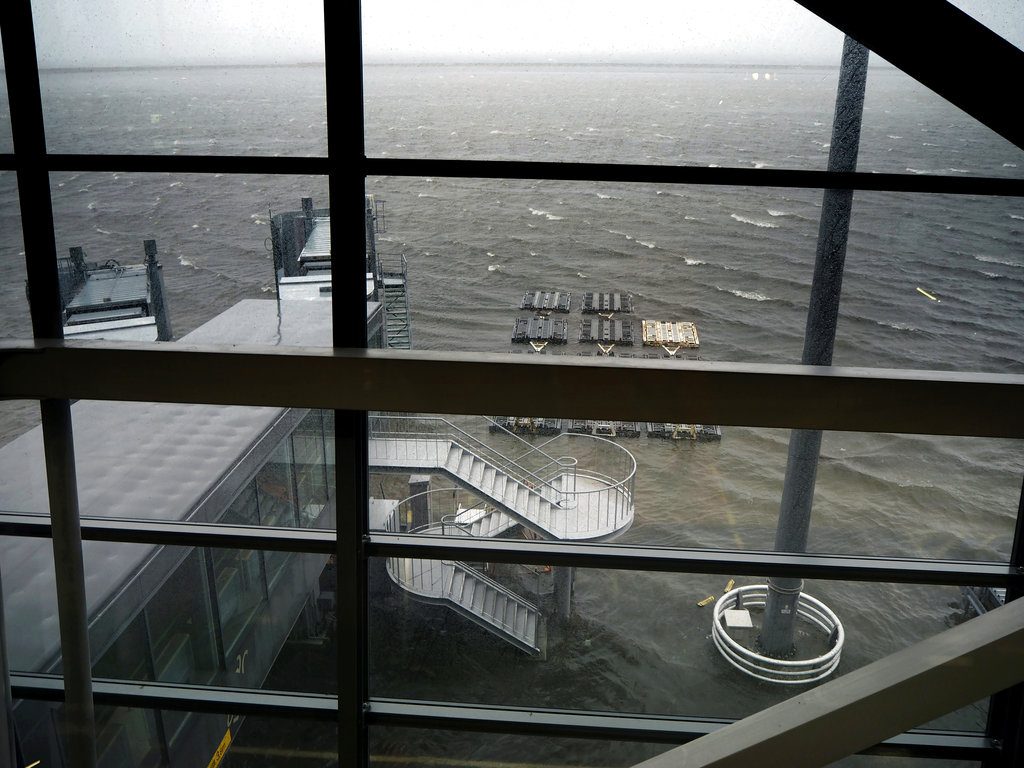 A tanker that was mooring slammed into the side of a bridge connecting the airport to the mainland, damaging the bridge and leaving people stranded overnight, transport ministry official Mitsuo Nakao said.
The tanker was also damaged, but its 11 crewmembers were not injured, according to the coast guard.
The heavily damaged ship has been pulled away from the bridge into nearby open waters.
The deaths included a man in his 70s who was blown to the ground from his apartment in Osaka prefecture. Police said five others died elsewhere in the prefecture after being hit by flying objects or falling from their apartments. In nearby Shiga prefecture, a 71-year-old man died when a storage building collapsed on him, and a man in his 70s died after falling from a roof in Mie, officials said.
Daihatsu Motor Co. stopped production at its Kyoto and Osaka factories, while Panasonic halted work at its air conditioning and refrigerator factory in Shiga. Major beverage maker Kirin Co. suspended production at its brewery in Kobe, according to Kyodo News agency.
In nearby Nishinomiya in Hyogo prefecture, about 100 cars at a seaside dealership burned after their electrical systems were shorted out by sea water, fire officials and news reports said.
In Osaka, the Universal Studios Japan theme park remained closed for a second straight day. A news release said it would open again on Thursday.