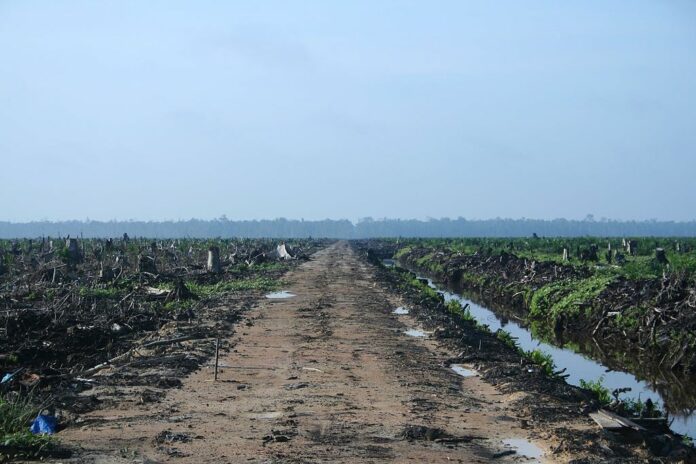 JAKARTA — Greenpeace says global consumer brands continue to buy palm oil from companies that are cutting down Indonesia's rainforests despite repeated pledges to clean up their supply chains.
The environmental group said in a report released Wednesday that 25 palm oil producing groups it has investigated destroyed more than 130,000 hectares of natural forest in Indonesia since 2015. It says that's an area nearly twice the size of the island nation of Singapore.
The report said all but one of those producers had supplied palm oil to consumer companies that are household names around the world in the past year. They include giants such as Nestle, PepsiCo, Unilever and Colgate-Palmolive.
Palm oil, mainly produced in Indonesia and Malaysia, is used in a slew of consumer products from snacks to cosmetics.
Some 16 major consumer goods companies made a joint commitment in 2010 to end the buying of palm oil from producers who are destroying forests and committing human rights abuses but have been repeatedly criticized for lack of progress.
Greenpeace said the commitments on paper had frequently been used to create the appearance of taking action without making real changes.
Years after adopting conservation policies, "brands and traders are still unable to monitor the producer groups in their supply chains," the group said.
The Greenpeace report also mentions evidence of child and other forced labor in Indonesia's palm oil industry but mainly focuses on the environmental problems. It singled out palm oil giant Wilmar as the biggest offender among the 25 groups it investigated.
Rapid forest loss and greenhouse gas emissions have made Indonesia the fourth biggest contributor to global warming after China, the U.S. and India.
"The palm oil industry's failure to address deforestation and other notorious practices is putting its long term future in doubt," said Greenpeace. "Public opinion in many major markets is already turning against palm oil."
The influential International Union for Conservation of Nature earlier this year said bans on palm oil are not a solution because other sources of plant oil require as much as nine times more land.
It said a ban would likely only "displace" forest and species destruction to other areas. Concerted action is needed to make the palm oil a responsible and "sustainable" industry, it said.