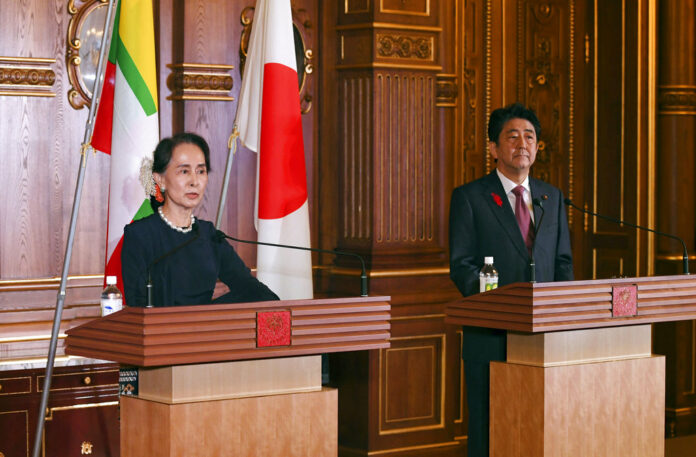 TOKYO — Japanese Prime Minister Shinzo Abe told Myanmar's leader Tuesday that a credible investigation into alleged human rights violations against Rohingya Muslims is key to resolving tensions in the country's Rakhine state.
Abe told a joint news conference after holding talks with Aung San Suu Kyi that Japan will support efforts by Myanmar to accommodate Rohingya who return home from refugee camps in neighboring Bangladesh.
"This problem is complicated and serious, and Japan will think with Myanmar and support its effort in resolving the problem," Abe said. "A credible investigation by the independent panel is particularly important."
Buddhist-majority Myanmar's military is accused of widespread rights violations, including rape, murder, torture and burning villages, which sent about 700,000 Rohingya fleeing to Bangladesh since August last year.
Suu Kyi's government has rejected independent international investigations into the alleged abuses and has commissioned its own probe.
Suu Kyi agreed Tuesday on the importance of an "accurate and appropriate" investigation. She defended the government-commissioned panel as free and effective, and its members – one each from Japan and the Philippines and two from Myanmar – as experts on human rights and international issues.
"I welcome Japan's support for our efforts for the refugees' return," said Suu Kyi, who is in Tokyo for a six-nation Mekong regional summit hosted by Japan.
Myanmar commissioned the panel after rights groups called for the International Criminal Court to investigate the alleged abuses. Myanmar's government, which is not a member of the court in The Hague, rejected any participation in its proceedings.
Myanmar authorities, including the army, have conducted their own inquiries and declared their forces free of criminal actions, leading critics to treat the latest government-formed commission as an effort to whitewash what the United Nations has characterized as ethnic cleansing of the Rohingya.
Story: Mari Yamaguchi