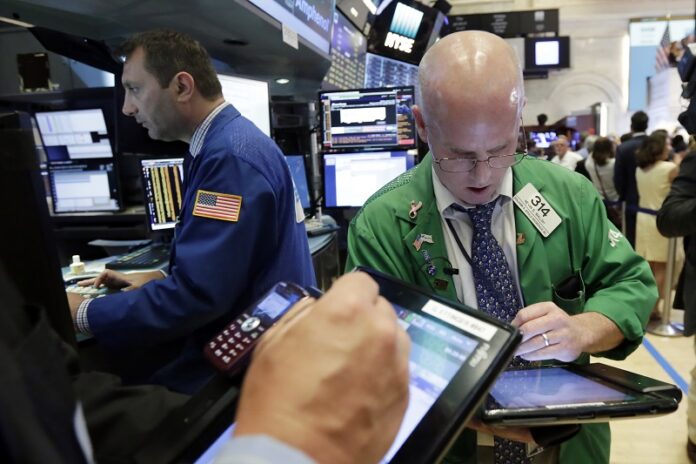 SINGAPORE — Asian markets clocked more gains Tuesday ahead of a meeting between the U.S. and China at the Group of 20 summit this week, despite President Donald Trump's comments that it's "highly unlikely" he'll hold off on raising tariffs as Beijing requested.
Keeping Score
Thailand's SET was trading at 1,634.19 on Tuesday morning, a 0.2 percent increase. Japan's benchmark Nikkei 225 added 0.1 percent to 21,843.37 and South Korea's Kospi rose 0.4 percent to 2,090.35. The Shanghai Composite was up 0.3 percent at 2,582.72. Australia's S&P/ASX 200 gained 0.6 percent to 5,702.70. Hong Kong's Hang Seng index bucked the trend, giving up 0.4 percent to 26,269.33. Shares rose in Malaysia but fell in Taiwan, Singapore and Indonesia.
Wall Street
Technology and retail companies led a recovery of U.S. stocks, which suffered big losses last week. Monday marked the first full trading day of the holiday shopping season. Amazon surged 5 percent and Nike gained 1.7 percent. The S&P 500 index closed 1.6 percent higher at 2,673.45. The Dow Jones Industrial Average rose 1.5 percent to 24,640.24 and the Nasdaq composite jumped 2.1 percent to 7,081.85. The Russell 2000 index of smaller-company stocks added 1.2 percent to 1,505.96.
Trump on Tariffs
In an interview with the Wall Street Journal, Trump said it is "highly unlikely" he'll reverse plans to raise tariffs on USD$200 billion of Chinese goods in January. He also threatened to impose tariffs on more Chinese goods if he fails to broker a deal with Chinese President Xi Jinping this week. The two leaders are set to meet on the sidelines of G-20 summit in Argentina, which takes place on Friday and Saturday. Trump also said that the new tariffs would "maybe" apply to iPhones and laptops imported from China. Apple slumped 2.1 percent to $170.93 in after-hours trading, erasing its gains in the U.S. session.
Analyst's Take
The rebound in U.S. equities "is set to be tested as Trump has resumed his confrontational approach ahead of G-20 meeting with Xi," Zhu Huani of Mizuho Bank said in a market commentary. "This has sent a cautious mood to the market as a grim reminder that hurdle remains high in the forthcoming Trump-Xi trade talk," she added.
Energy
Oil futures fell on concerns over rising stockpiles and slowing economic growth. OPEC representatives and other major oil producers will meet in Vienna next week to discuss a possible cut in production. Benchmark U.S. crude shed 33 cents to $51.30. The contract added $1.21 to close at $51.63 in New York on Monday. Brent crude, the international standard, lost 21 cents to $60.27. It gained $1.68 to $60.48 in London.
Currencies
The dollar weakened to 113.45 yen from 113.59 yen late Monday. The euro rose to $1.1335 from $1.1327.
Story: Annabelle Liang