BANGKOK — Lured from the water by a delicious fish, the large scaly park resident instead finds a rope over his head. Wrangling him into a position he cannot offer resistance, a group of men approach and tie his jaws and legs before putting him into a sack.
Dozens of water monit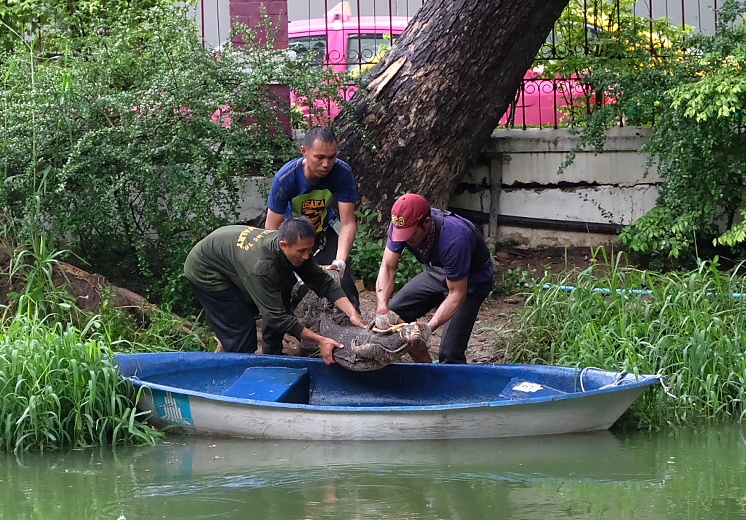 ors, animals called hia that are also a verbal exclamation point, were captured in Lumphini Park on Tuesday and shipped off to spend the rest of their lives in cages.
At least the ones which didn't run fast enough.
Kicking off a campaign to reduce the population of the landmark park's most distinctive denizens, City Hall officials said they hoped to catch 40 of the 400 water monitors today because people complained the reptiles scared them. They also said the big lizards have damaged the park grounds due to their weight.
"They don't hurt people, but they destroy the nature, all the trees and flowers we have grown. Also the lake's banks have been ruined," said Suwanna Jungrungruang of Bangkok's Environmental Department.
The lizards removed from the park will be taken to the Khaozon Wildlife Breeding Center in Ratchaburi province where Suwanna said they will be put in cages "with enough space to live."
Not all of the large lizards, which are a distinctive feature popular with tourists, will be purged from the capital's downtown park.
Admitting the presence of the lizards indicate a healthy ecosystem, Suwanna claimed the population has increased through the years, resulting in complaints to City Hall.
"They appear to walk in unsuitable places," she said.
Thailand's top wildlife official, Thanya Netithammakun, said Monday that he had informed city officials that water monitors are a protected species that never initiates harm against humans.
Suwanna indicated there was no specific plan and the city was playing it by ear.
After today's removal effort, she said her department will coordinate with academics and related agencies to devise a plan to limit the lizard's population.
Asked how many water monitors can be removed without affecting the park ecosystem, Suwanna said it was an excellent question "but we don't yet have an answer."
Instead she said the hia reduction was part of City Hall's ambitious development plan to raise  Lumphini Park to "world-class standards' in time for its centennial in 2025.
The morning chase was disrupted by park enthusiasts who came to protest the policy.
"Hia never hurt people," said Niphon Boonyapattharo of the We Love Lumphini Park  Foundation, adding that he's cycled in the park for a decade. "They are friends with everyone, from security guards to vendors. City Hall has a lot of other work to do, why are they wasting their time with the hia?"