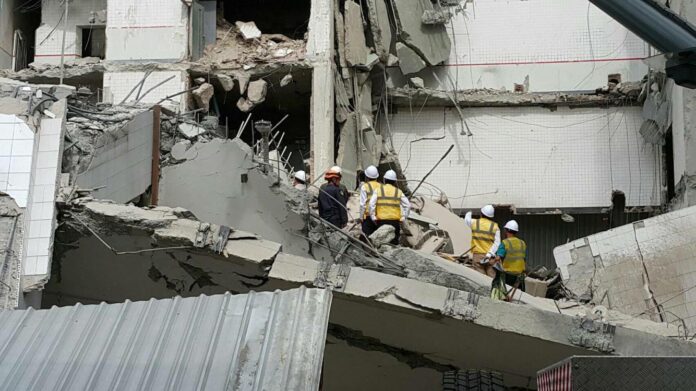 BANGKOK — Police said Saturday they charged engineers responsible for the demolition of a building in Soi Sukhumvit 87 where at least two workers were killed when it collapsed and two remain missing.
Developer, Krittatchaya Sriwanna and engineer Kittiphong Yootairomboon were charged for recklessness resulting in death over the Friday incident, according to Bangkok Police Chief Sanit Mahathavorn.
The offense carries a maximum of 10 years imprisonment and a 20,000 baht fine.
Phra Khanong police commander Chanin Wachirapraneekul said the accused were yet to present themselves to police as of Saturday morning.
Rescue workers Saturday afternoon continued to search for Boonjang Letla-ong, 46 and Phrai Kanoonrum, 38, two workers trapped underneath the ruins.
The bodies of two workers recovered Friday were identified as Singha Sriphet, 53 and Teerasak Snsrisong, 39.
Sanit said the developer and the engineers would also be charged for violating officials' orders, as they proceeded with the demolition despite being ordered to halt it out of safety concerns.