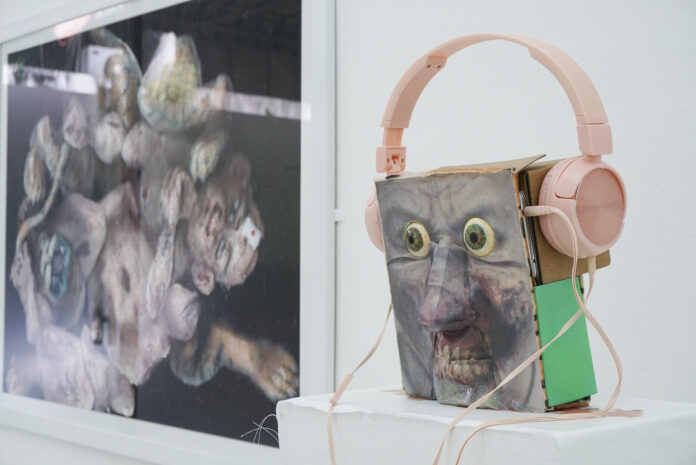 BANGKOK — Step inside a gallery-shop house in Soi Sukhumvit 67 to see a naked man wrestle a tiger and listen to a zombie dance to aerobic trap music.
For a proper dose of WTF, check out In-mature/Limbo, joint art exhibition by New-Territories and Dutem Schwollen at Tars Gallery, one of more than a hundred pavilions that are part of the Bangkok Biennial which opened last week.
Dutem Schwollen, the alias of an American artist who wanted his identity withheld due to his day job, started work on Limbo in February. It explores rites of passage, transformative experiences and more, all in gonzo abstraction.
Read: 1st Bangkok Biennial to Open With Riverside Aerobics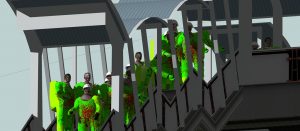 This, from the artist's statement:
"No resentments at our stage of pre-pubescence, we could shoot kittens, pull legs off spiders, emasculate our daddies, find refuge in the darkness of our confusion, cruising zombies and elves and clowns … fleshy monstrosity oozing erotic toxins… no matter… intricacy of nightmares flexing morning wood/clito-tumescence… bed sheets cling, as a flag … our innocence… clad in battle tunics with no cavalry."
Got it?
One might notice all works are not placed higher than 145 centimeters, like the low-walking game of Limbo played at parties.
On the wall, see multimedia prints narrating a naked man wrestling a tiger to a troop of zombies descending from BTS Mo Chit. Some of the prints are accompanied by stereoscopic videos. Put on a headset and place a cardboard-made zombie mask to watch a video. Should the spirit move you, feel free to dance to the aerobic trap music. You can't possibly out-weird this.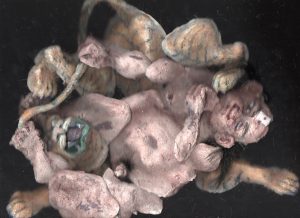 Tap on an iPad sitting in one corner. It plays videos of three or four people wearing zombie masks and win motosai taxi jackets, playing violins made of beer boxes and Thai xylophones called ranad. Warning: Do not expect to hear beautiful melody.
The last part of Limbo shows Dutem's "citations" which are drawings of his 4-year-old son. If your rational brain has yet to give up, check out cutesy versions of skull-faced mushrooms and a man being torn in pieces.
Limbo is a part of In-mature/Limbo, a joint art installation at Tars Gallery. It can be viewed 2pm to 6pm on Saturdays and Sundays through Sept. 22. Tars Gallery is located in Soi Sukhumvit 67 and can be reached on foot from BTS Phra Khanong.
Related stories:
Marvel at 150+ Artists at 1st Bangkok Biennial
Battle of the Biennials: Which Will Define Thailand?