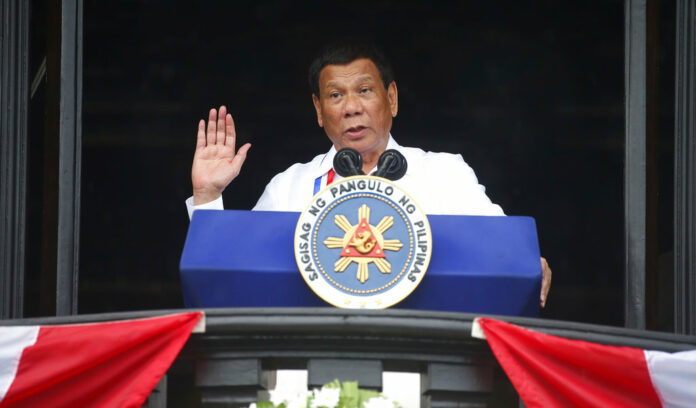 MANILA — Philippine President Rodrigo Duterte came under renewed pressure Thursday to seek Chinese compliance to an arbitration ruling that invalidated China's claims to much of the South China Sea two years ago but has been ignored by Beijing and remains unenforced.
Former Philippine Foreign Secretary Albert del Rosario, who spearheaded the arbitration suit, called China a "grand larcenist" for pressing its territorial claims despite the July 12, 2016, decision and labeled the Philippines a "willing victim" for allowing such defiance.
The ruling invalidated China's historical claims to virtually the entire waterway, but Beijing refused to acknowledge it or join the arbitration proceedings held by a tribunal in The Hague under the 1982 U.N. Convention on the Law of the Sea.
Duterte, who has nurtured close ties with China after rising to power in 2016, has not sought immediate Chinese compliance to the landmark ruling but has vowed to discuss the decision with Beijing at some point in his six-year presidency.
Critics say he has been far too soft on China, but he and his officials say his approach has fostered talks aimed at resolving the disputes, eased tensions and won concessions, including a Chinese decision to stop blocking Filipino fishermen from a disputed shoal.
The United States and other Western governments have backed the arbitration approach as a peaceful, international law-based avenue to resolve the long-raging disputes.
"The Philippines has had two years to take advantage of its position to develop and obtain the support of many countries whose principles are aligned with our own and with whom our own voice could be magnified," del Rosario said in a forum, which marked the second year since the ruling was issued.
"Sadly, however, this was not made to happen," he said.
Presidential spokesman Harry Roque dismissed del Rosario's remarks. "We will continue to assert what is ours while we move on with our bilateral relations with China," he said.
Vice President Leni Robredo told the forum that "China's encroachment on Philippine territories is the most serious external threat to our country since World War II," but she added that the arbitration case by Manila against Beijing "proved that in keeping peace, the rule of law is a much more potent force than the rule of arms and battleships."
Dozens of protesters rallied at the Chinese consulate to mark the ruling's anniversary, yelling "China, get out." Unidentified people hung banners labeling the Philippines a province of China, but police were deployed to remove the banners.
The South China Sea has some of the world's busiest sea lanes and is believed to be rich in natural gas and oil. China's claims to most of the sea overlap with those by Philippines, Vietnam, Malaysia, Taiwan and Brunei. It built up some of the disputed reefs to make islands and has reportedly deployed anti-ship missiles, surface-to-air missiles, electronic jammers and other equipment on those islands, arguing it has a right to build up defenses on its sovereign territory.