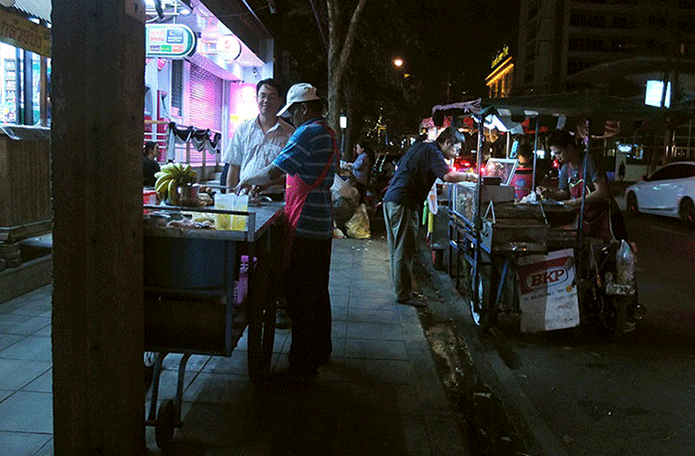 By Sasiwan Mokkhasen and Todd Ruiz
BANGKOK — On Monday, the latest edict to clear Bangkok's sidewalks of the vendors which have long lent busy energy late into the night went into effect.
This time in the upscale nightlife stretches of Thonglor and Ekkamai, where City Hall banned vendors from setting up sidewalk cafes and markets. Itinerant push-cart vendors were still allowed to travel up and down the road.
It's the latest in a years-long push since the 2014 coup to impose cleanliness and order on the otherwise chaotic streets of the Thai capital. It has divided residents, some who support the authorities' stated aim to reclaim public space for public use, and those who say it is sapping the very character that lends the city appeal.
Compare for yourself how the streets looked before and after the ban with these interactive images. (Slide left and right).
Read: Those Who Toil For Bangkok Deprived by Loss of Street Food
Near Soi Thonglor 9

Beneath BTS Thong Lo

Maze Thonglor near Soi Thonglor 4

Near Soi Thonglor 7

This is Soi Sukhumvit 38, a once-bustling street food destination across Sukhumvit Road from Thonglor. Vendors were partly evicted from the east side in early 2016, while small restaurants on the west side were evicted by the landowner to build a condominium.