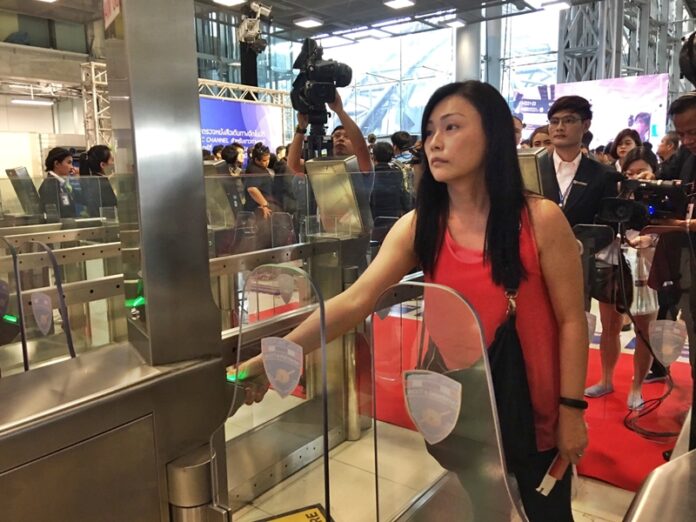 BANGKOK — Passing through airport immigration is a little swifter today for some, so long as they hail from the sparkling city-state to the south.
Singaporeans are the first foreign nationals to be approved to use new automated passport control gates at Suvarnabhumi International Airport as of Saturday.
"This will help solve the problem of crowded queues in airports," Lt. Gen. Nattatorn Phrosoontorn of Immigration Bureau police said. "We're using technology to tackle this problem in a concrete way."
At the gates, a photo is taken of each passenger, their passport information collected and their fingerprints scanned. Although the service is limited to Suvarnabhumi for now, it will eventually be rolled out to all of Thailand's international airports, Nattatorn said.
The Immigration Bureau and Ministry of Foreign Affairs are working on approving other nationalities for use of the automatic gates, but no specifics have been made public yet.
What is made clear is that "high-quality" tourists, meaning those likely to spend the most, will have priority.
"Countries will be considered on a case-by-case basis. We will focus on countries that have high-quality tourists who visit Thailand in large numbers each year, but keeping security as the main priority," Nattatorn said.
Nattatorn said Singapore may reciprocate and allow Thais to enter their automated immigration gates when entering Singapore as well.
The announcement comes a week after frustrated complaints were raised about miserable queues at both Suvarnabhumi and Don Mueang airports. Hundreds of passengers were stuck at Don Mueang for four hours earlier this month, with people fainting in the lines.
Related stories:
Prayuth Says Hellish Airport Immigration Queues Must End
Here's the New Immigration Card. It's the Same But With Less Space