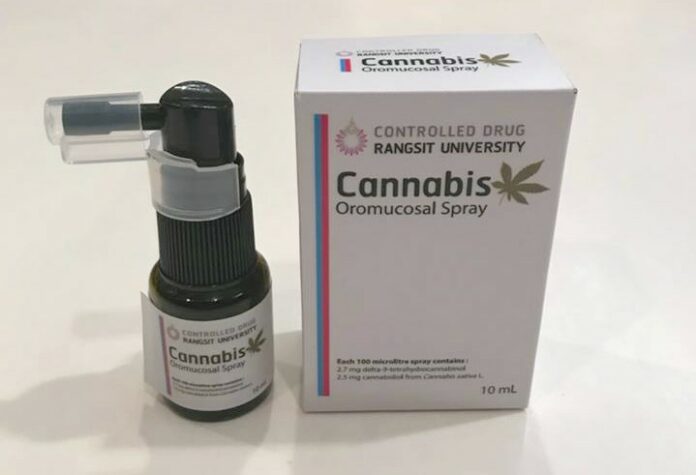 BANGKOK — A private university is pushing for legalization of medical marijuana after its researchers produced a cannabis spray for seriously ill patients that cannot be used under existing law.
The president of Rangsit University, where the experiments took place, on Tuesday called for the junta to use its absolute power to legalize medical use of marijuana so such products can be brought to the market.
"Be brave. Let us use medical marijuana legally regardless of the method," university Rector Arthit Urairat said. "It will be your legacy."
At a morning news conference, Arthit asked for officials from agencies such as the Food and Drug Administration and Narcotics Control Board as well as junta chairman Prayuth Chan-ocha to "unlock" the laws blocking people from accessing medical marijuana.
"Although you have to use Section 44, I want you to use it for this. It's better than using it to transfer people around. That was exercising power in a useless way," he said, referring to Prayuth's use of his extralegal authority to move or strip bureaucrats of their positions.
The event was also to announce a type of oral marijuana spray called cannabis oromucosal spray. Such sprays in use where medical cannabis is legal are typically based on cannabidiol compounds, which do not get users high.
Rangsit's Faculty of Pharmacy produced its own prototype but said further development would require government grants.
In the past two years, Thailand has been drawing down its war on drugs. The junta's top justice official in 2016 declared it a failure and said the focus should shift to helping users and relaxing stringent laws. Use for wider medical research was being considered and further decriminalization planned.
The faster the better, Arthit said.
"Those who have cancer, they cannot wait. They need the help now, so I think we need to take every shortcut possible."
The research team led by professor of pharmacy Narisa Kamgaen announced last week that it produced the marijuana spray that can reduce pain in patients with cancer or multiple sclerosis. The experiments were conducted using marijuana seized by narcotics police.
Rangsit University is the only institution with permission to conduct such research.
Narisa said her team obtained permission to extract the compounds needed to produce the spray, but improving it would require growing their own, better-quality cannabis because in an enclosed greenhouse in a controlled environment.
No human trials have been conducted due to legal restrictions. The spray has only been tested on animals.
Marijuana in Thailand remains classified as a Category 5 drug, illegal to use or possess for any reason.
Related stories:
420 Weed Fest to Light Up Bangkok Again
Thailand to Build First Legal Weed Farm
Thai Law About to Make Medical Marijuana Legal
Thailand's Drug Decriminalization Edges Forward – With Little Fanfare
Regime Moves to Ease Drug Laws Starting With Meth, Marijuana