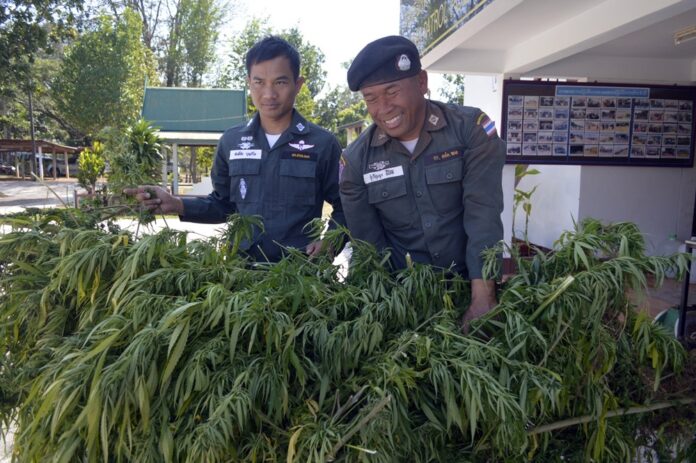 BANGKOK — Marijuana decriminalization activists Tuesday hailed news that cannabis will be grown legally for the first time in Thailand, possibly in the northeast.
Rattapon Sanrak, founder of a group that advocates for cannabis legalization, said that although reported plans to build a plantation in Sakon Nakhon province aren't a done deal, officials have taken positive steps by going ahead with the project.
"I think it will certainly help build a positive image," said Rattapon, who heads a group called Highland. "Apart from image, it will help the patients. And if they can distribute it to farmers, instead of letting several corporations have a monopoly, it will also help farmers to have more revenue."
Read: Thailand's Drug Decriminalization Edges Forward – With Little Fanfare
Word of a possible construction of a 5,000 rai (800 hectare) facility comes months after drug authorities confirmed plans to legalize cannabis for medical purposes, though health officials said Tuesday that they were yet to be informed about it. No time frame was given for the plantation to open.
Farmer association chairman Prapat Panyachartraksa told the media that its crops would be harvested solely for medical research, adding that he had been notified about the plan by the Narcotics Control Board, the agency responsible for enforcing drug laws.  
Rattapon said it's unlikely the marijuana will be sold over-the-counter as is now legal in many US states. Instead, he said, they will likely be processed not for their THC – the substance that gets people high – but for compounds such as cannabidiol, or CBD, which is used in seizure medication and cancer treatment studies.
Any unlicensed cultivation, use or sale of marijuana remains illegal, though in October anti-drug officials said they would move toward the partial decriminalization of cannabis for medical use.
Narcotics Control Board director Sirinya Sitdhichai could not immediately be reached for comment.
But the public health ministry – which would be responsible for facilitating studies using marijuana extracts – said it has only heard about the planned plantation in Sakon Nakhon from the media.
"We have never spoken about this," spokeswoman Sirima Teerasak  said. "The ministry is only doing work with the decriminalization of hemps. But there's no information about marijuana."
She said the Food and Drug Administration would hold a news conference about the matter later Tuesday afternoon.
Related stories:
Thailand's Drug Decriminalization Edges Forward – With Little Fanfare
Short of an Armistice, Justice Minister Concedes Defeat in 'War on Drugs'
At 420 Weed Fest, Heady Times for Thai Cannabis Activists (Photos)