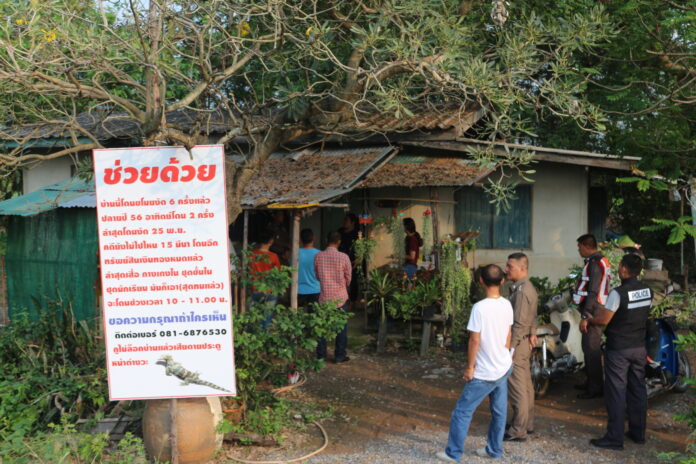 PATHUM THANI — It was after the sixth time the police failed to capture whoever broke into their home that a family in northern metro Bangkok put up the sign.
After eight years and six robberies – this time underwear was stolen – Chongkolrat Muangprom and her 18-year-old daughter Chirinporn said they gave up hope officers would find the perpetrator, choosing instead to erect a sign protesting police inaction.
"I gave a suspect's name every time I filed a complaint, but the police have never been able to catch anyone. Even when I have footage from a security camera that shows a potential suspect, they still didn't do anything about it," Chongkolrat said, without identifying the alleged perpetrator.
She said she's been living in distress since the first 2009 break in occurred.
"Help! This house has been robbed six times. … I'm not locking doors and windows anymore; they're such a waste," reads the sign they hung from a tree in front of their home in Pathum Thani's Khlong Luang district. It includes a picture of a monitor lizard, or hia, a curse word in Thai.
She also provides her phone number for anyone to offer information that could lead to an arrest.
The mother said it happened twice between 2009 and 2010 – when the thief stole money and damaged electric and telephone wires. In late 2013, they were allegedly robbed twice in a week, with the thief taking a TV and amulets worth 20,000 baht. Then it happened again in 2017, with another gold necklace.
In the latest incident on March 15, Chongkolrat said the thief could not get inside and instead stole her daughter's student uniform and underwear hanging outside.
Chirinporn said she hasn't felt safe enough to stay home alone since the first robbery.
"I have to stay with my mom all the time, waiting for her to get off work at 8pm every day before we go home together," she said. "We don't have valuable things left to be stolen anymore. I want to speak out to police who dismiss our trouble. It's very difficult for us to live in fear like this. I never dare leave the windows and doors open. I'm so afraid of everything."
Col. Toon Detkhunmak, the local police chief, visited the residence and promised to arrest the perpetrator as soon as possible.
"We've been ordered to arrest the culprit within seven days. I asked the victims to trust us now that we have a suspect in mind," he said.
Chongkolrat also led the police to the site where she found an abandoned bag full of panties and said residents fear the thief may be lurking, spying on people taking showers.