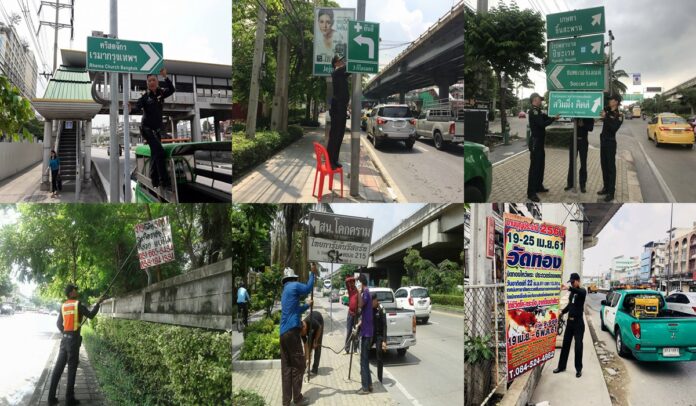 BANGKOK — From every roadside they beckon, green and white signs directing people to destinations large and small. Near every recent condo, sign spinners ply their attention-grabbing craft.
Addressing the sheer volume of signs plastering every available surface, Bangkok had a message Tuesday: Many are illegal and gotta go.
More than 10,000 unauthorized signs and billboards have been removed in recent weeks as part of a cleanliness and order campaign to tidy up the cityscape, Bangkok Gov. Aswin Kwanmuang said.
"These signs were put up without permission from the city," he said. "We also found a new form of advertising sign, in which companies hire people to hold signs to advertise houses or condominium sales in public areas. … This is also illegal."
Those violating the law are subject to maximum fines of 5,000 baht. Vowing to continue the purge of posted signage, Aswin suggested the fine might be raised due to repeat offenders.
The effort includes removing unauthorized direction signs put up by commercial interests across the city. The most common signs, printed in white on a green background, can be posted by government offices, public enterprises, academic institutions, temples and other religious places with a permit from the governor's office only.